Leader's Adviser Warns Saudis against Testing Iran's Patience
TEHRAN (Tasnim) – A senior military adviser to Leader of the Islamic Revolution Ayatollah Seyed Ali Khamenei slammed Riyadh for its continued hostilities toward Tehran, urging the "young and ignorant" rulers of the Arab country to avoid testing the Islamic Republic's practice.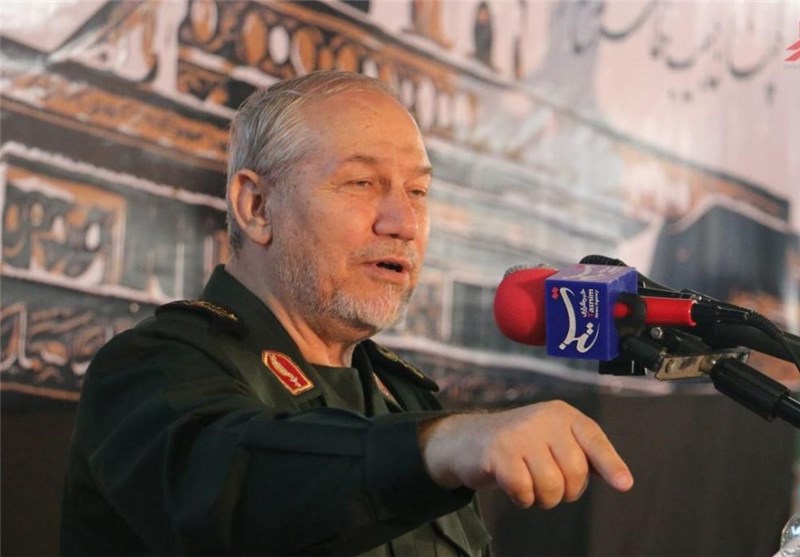 Speaking in a ceremony in Tehran, Major General Seyed Yahya Rahim Safavi pointed to a recent massage of Ayatollah Khamenei on the first anniversary of the deadly crush of Hajj pilgrims in Saudi Arabia's Mina, regretting that Saudi rulers have used the Hajj pilgrimage as a political tool to exert pressure on other countries.
The tragedies that occurred last year were a stain on the reputation of the regime that can never be removed, he said.
The Saudi regime is so shameless that it not only did not apologize to the bereaved families of Iranian victims of the Mina tragedy but also prevented Iranians from performing Hajj pilgrimage, one of the most important Islamic duties, this year, the top general stated.
Up to now, Iran has adopted a policy of exercising restraint in response to the Saudis' measures against Iran, he said, warning, however, that "the young and ignorant rulers of Saudi Arabia should be aware that they should not test the Islamic republic of Iran's patience."
The deadly crush of Hajj pilgrims in Mina in September 2015 marked the worst ever tragedy during Hajj.
In a message on the anniversary of the tragedy earlier last week, the Leader of the Islamic Revolution strongly slammed "murderous" Saudi rulers for refusing to allow an international probe into last year's deadly Mina crush, urging Muslims to correctly understand their true nature.
"Several thousand families from different countries lost their loved ones and their nations were bereaved. From the Islamic Republic, close to five hundred people were among the martyrs. The hearts of their families are still broken and bereaved and our people remain grief-stricken and angry," Ayatollah Khamenei said.
"Instead of apology and remorse and judicial prosecution of those who were directly at fault in that horrifying event, Saudi rulers- with utmost shamelessness and insolence- refused to allow the formation of an international Islamic fact-finding committee."
The Leader further stressed, "The world of Islam, including Muslim governments and peoples, must familiarize themselves with the Saudi rulers and correctly understand their blasphemous, faithless, dependent and materialistic nature. They must not let those rulers escape responsibility for the crimes they have caused throughout the world of Islam."