Tehran, Hanoi to Boost Bilateral Trade to $2bln: Rouhani
October, 06, 2016 - 13:18
TEHRAN (Tasnim) – Iranian President Hassan Rouhani said Tehran and Hanoi are resolved to boost trade ties to $2 billion.
"The two sides agreed to increase their bilateral trade turnover to $2 billion," Rouhani said in a joint press conference with his Vietnamese counterpart Tran Dai Quang in the capital Hanoi on Thursday.
Heading a high-ranking delegation of political and economic officials, President Rouhani on Wednesday embarked on a tour of Southeast Asia. After Vietnam, he will visit Malaysia and Thailand, where he will participate in the 2nd Asia Cooperation Dialogue (ACD) Summit.
Hailing the existing potentials for expansion of trade ties between Tehran and Hanoi, the Iranian president said, "There is a great opportunity to export oil, gas and petrochemicals from Iran to Vietnam".
He also invited Vietnamese companies to invest in Iran's oil and gas sectors, and stressed that the two nations should enhance their cooperation in various spheres, including technical and engineering services and economic and trade ties, particularly in banking sector, as well as closer academic and scientific collaborations.
For his part, Vietnam's President Tran Dai Quang, also stressed the need for enhanced ties between Tehran and Hanoi in all fields, and said, "In economics, cooperation opportunities are still large... but the scale of cooperation and bilateral trade are still modest."
Additionally, the two presidents on Thursday signed two documents of cooperation in the fields of technology and communication.
The two sides also signed an agreement whereby visa regime between the two countries will be abolished conditionally.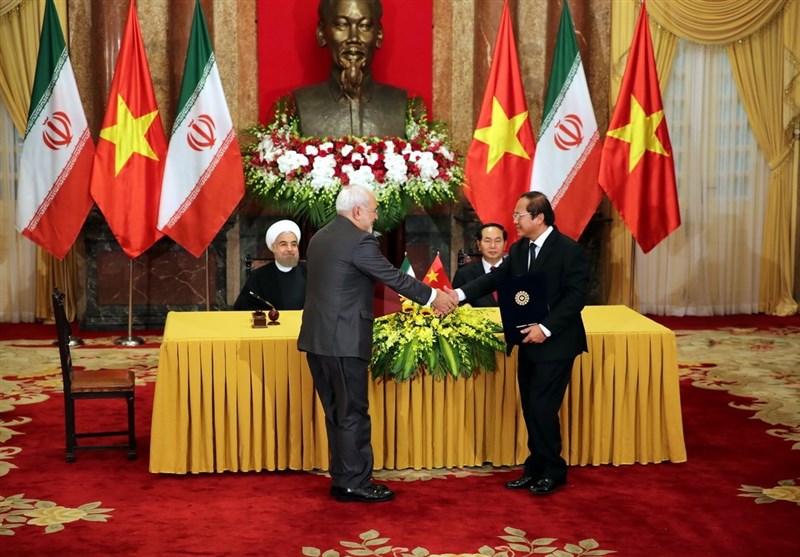 Iran opened an embassy in Hanoi in 1991 and Vietnam opened its embassy in Tehran in 1997. They established relations in 1973 and since then the two countries have increased political and economic cooperation through exchange of visits by senior officials from both sides.
Trade exchanges between them reached $300 million in 2013 from $80 million in 2010. Those transactions currently stand at $350 million, meaning the two countries have an arduous task to hit the $2 billion mark.