Wildfire Forces Evacuation of 14,000, Kills 3 in US Tennessee
TEHRAN (Tasnim) – Three people have died in wildfires around Great Smoky Mountains National Park in the US state of Tennessee, authorities said Tuesday, and firefighters were bracing for another round of lightning and high winds overnight.
November, 30, 2016 - 17:04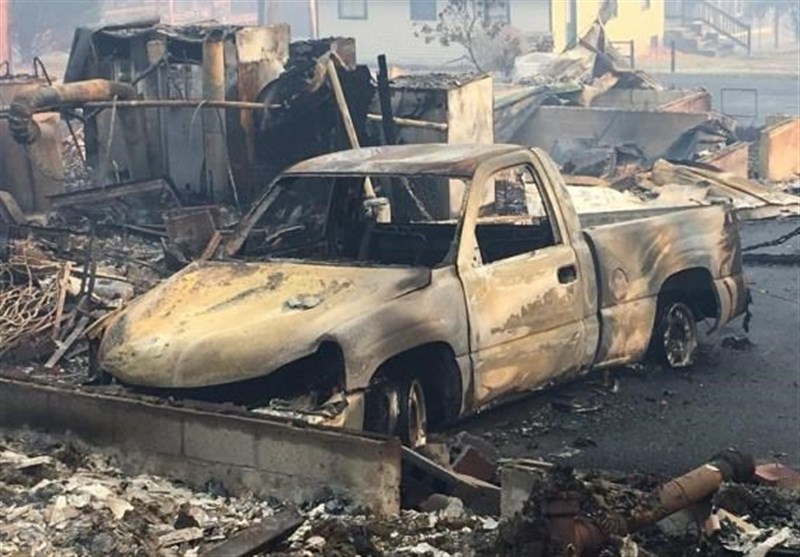 The three people died in what Gov. Bill Haslam called "the largest fire in the last hundred years in the state of Tennessee." Dozens of homes were destroyed, and thousands of residents had to flee in resort towns, NBC News reported.
Fourteen people were transported to hospitals, Sevier County Mayor Larry Waters said at a news conference Tuesday afternoon announcing the deaths.
Three people were in critical condition with severe burns at Vanderbilt University Medical Center in Nashville, the hospital officials said.
"We have not been able to get in to all of the areas," Waters said. "We pray that we don't experience any more fatalities."
At least 14 fires totaling almost 15,000 acres are burning across Sevier County outside Knoxville, authorities said, ravaging parts of Gatlinburg and Pigeon Forge — communities considered the gateways to the national park and home to popular tourist destinations such as Dollywood.
"This is a fire for the history books," Gatlinburg Fire Chief Greg Miller said. "The likes of this has never been seen here."
Waters called the deaths "very saddening," but he promised, "We're going to make it. Gatlinburg is strong. Sevier County is strong."
After having made significant progress thanks to drenching rain Monday night — Miller said "the worst is definitely over with" in the morning — officials were eyeing the weather forecast with dread Monday night as another line of strong storms approached.
The National Weather Service issued a high-wind warning for Tuesday night into Wednesday afternoon, predicting lightning and fire-whipping sustained winds of up to 40 mph, with gusts as high as 60 mph.
Gatlinburg Mayor Mike Werner called the forecast "ominous," adding, "We may spend this evening fighting more fire." He said a 6 p.m.-to-6 a.m. curfew was in effect, and he advised residents to boil their water.
Emergency officials said three resorts appeared to be affected: Westgate, Black Bear Falls and Ober Gatlinburg, an amusement park and ski area. But Ober Gatlinburg said Tuesday on Facebook that "our property is okay."
Dollywood — main attraction In the town of Pigeon Forge, named for country music superstar Dolly Parton — wasn't damaged, a spokesman said, but the fire was coming perilously close.
The theme park itself wasn't burning, but more than a dozen cabins it manages were damaged. Families staying in 50 rooms at the park's DreamMoore Resort, as well as 19 cabins on the property, had to be evacuated.
All evacuations in Pigeon Forge were lifted Tuesday afternoon, and most businesses were open, town officials announced. But Dollywood suspended operations until Friday because it's "focusing its efforts for the next two days supporting the community," the company said.
"I have been watching the terrible fires in the Great Smoky Mountains and I am heartbroken," Parton said in a statement, adding, "It is a blessing that my Dollywood theme park, the DreamMore Resort and so many businesses in Pigeon Forge have been spared."
As many as 14,000 residents and visitors were believed to have been evacuated from Gatlinburg, where power was still out for more than 10,500 customers Monday evening.
Flames were about 50 yards from Ripley's Aquarium of the Smokies, and the smoke forced employees to abandon the facility before ensuring that the more than 10,000 animals were OK, Ryan DeSear, general manager of Tennessee Ripley Attractions, told NBC station WBIR of Knoxville.