Leader: Israel Won't Exist in 25 Years If Palestinian Resistance Continues
December, 14, 2016 - 17:50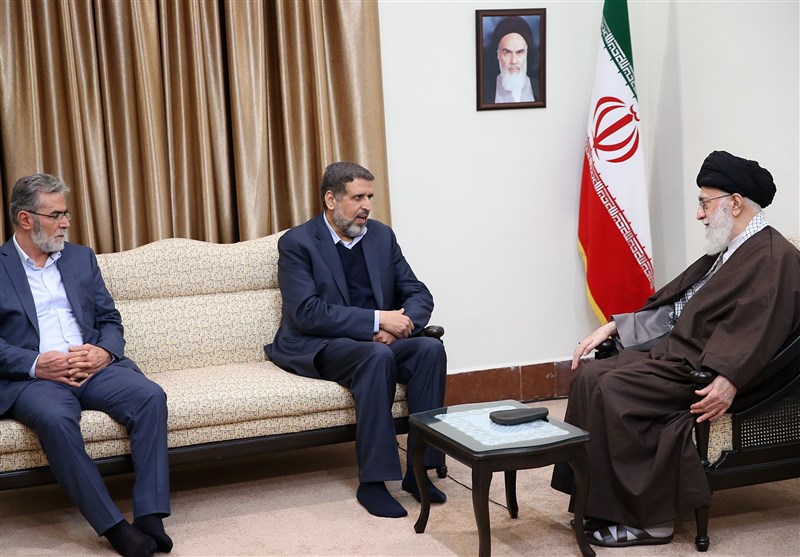 TEHRAN (Tasnim) – Leader of the Islamic Revolution Ayatollah Seyed Ali Khamenei stressed the necessity for unity among Palestinian groups and their continued fight against the Zionist regime of Israel, saying that in that case, the Tel Aviv regime will cease to exist in 25 years.
"The only way to save the Holy Quds is to fight and resist and other ways are doomed to (failure) and fruitless," Ayatollah Khamenei said in a meeting with Secretary General of the Palestinian Islamic Jihad Movement Ramadan Abdullah Shalah and his accompanying delegation in Tehran on Wednesday.
"Despite continued attempts by the supporters of the Zionist regime to create crises and make the Palestinian issue fade into oblivion, the holy land will be liberated thanks to the resistance and striving of Palestinian groups," the Leader said.
Ayatollah Khamenei further highlighted the importance of the youth population of Palestine and said the Zionist regime will not exist by the next 25 years provided that Palestinians and other Muslims continue their struggle against the Zionists.
The leader further reiterated Tehran's continued support for the Palestinian nation and said, "Despite being involved in certain regional issues, the Islamic Republic has always explicitly announced that Palestine is the number one issue in the Islamic world and fulfills its obligations in this regard."
Elsewhere, Ayatollah Khamenei underlined that a collective campaign against Takfiri terrorist groups, including Daesh (ISIS or ISIL) and al-Nusra Front, is one of the key issues in the region, adding that otherwise, the Palestinian issue could be further marginalized due to current crises created by the Takfiri terrorists.
Back in September 2015, Ayatollah Khamenei had slammed Israel as a fake regime, saying some Zionists have described the conclusion of talks on Iran's nuclear program as something that has eased Tel Aviv's concerns about the Islamic Republic for 25 years.
"But we tell them (the Zionists) that you will basically not witness the 25 years from now, and by God's grace, nothing called the Zionist regime will exist in the region (by then)," the Leader said at the time.