Iran's Administration Renews Allegiance to Imam Khomeini's Aspirations
TEHRAN (Tasnim) – Iran's president and his cabinet members visited the mausoleum of Imam Khomeini on Monday to reaffirm allegiance to the ideals of the late founder of the Islamic Republic ahead of the Ten-Day Fajr (Dawn) celebrations marking the anniversary of the 1979 Islamic Revolution's victory.
Speaking to reporters at the shrine of Imam Khomeini, south of Tehran, President Hassan Rouhani reiterated his administration's commitment to the path of Imam Khomeini.
"(Imam Khomeini's) discourse necessitates following, pursuing and developing the Islamic Revolution's great goals, such as liberty and independence in the context of the Islamic Republic of Iran," the president underscored.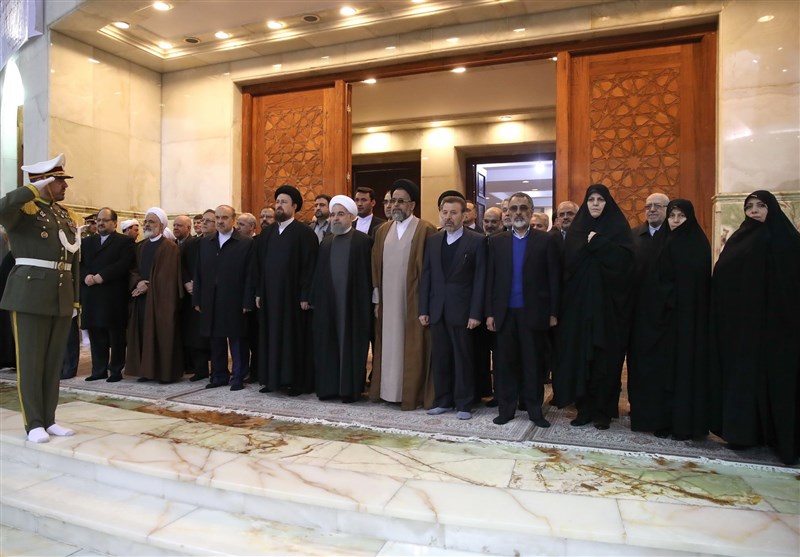 He also explained that independence does not mean isolation, but preventing the others from deciding the country's fate.
President Rouhani made it clear that under the guidance of Leader of the Islamic Revolution Ayatollah Seyed Ali Khamenei, Iran will employ constructive interaction with the world to serve its national interests.
Every year, Iranians mark anniversary of the Islamic Revolution from February 1 to 11, known as the Ten-Day Fajr ceremonies. On February 1, 1979, Ayatollah Ruhollah Khomeini returned from exile and led a national uprising that toppled the Pahlavi regime on February 11 that year.