Iran Eyes Persian Gulf-EU Links via Belarus
TEHRAN (Tasnim) - Iranian President Hassan Rouhani pointed to the ample opportunities for cooperation with Belarus, saying the two countries can consolidate links between regions from the Persian Gulf to Europe.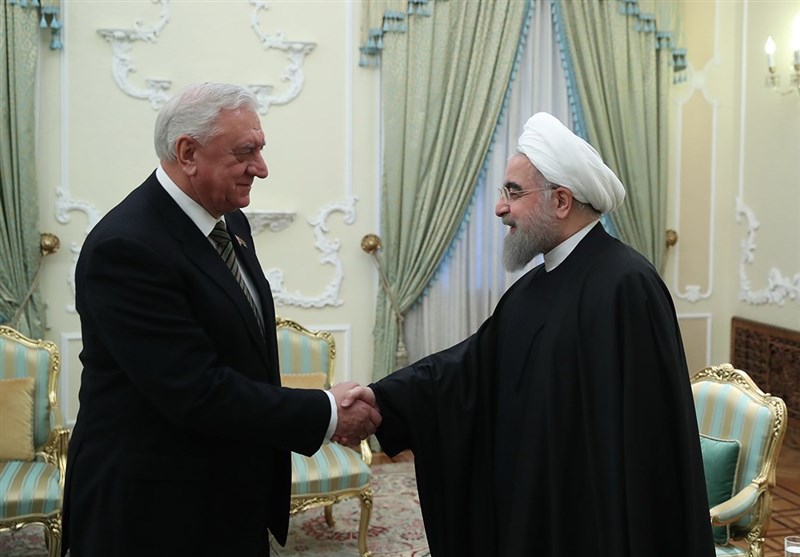 "In addition to mutual cooperation, Belarus and Iran can work as bridges for links in a broad area from the Persian Gulf to the European Union," President Rouhani said at a meeting with speaker of the Council of the Republic of Belarus, Mikhail Myasnikovich, held in Tehran on Monday.
The president also hailed the close political stances and international cooperation between Tehran and Minsk, stressing that Iran welcomes stronger collaboration with Belarus and the other Eurasian countries in economic issues, investment, science and technology.
The visiting Belarusian speaker, for his part, said the time has come for the expansion of bilateral economic ties with the removal of anti-Iran sanctions under the Joint Comprehensive Plan of Action (JCPOA), a nuclear agreement between Iran and the Group 5+1 (Russia, China, the US, Britain, France and Germany).
Myasnikovich arrived in Tehran on Monday and held separate meetings with Iranian Foreign Minister Mohammad Javad Zarif and Parliament Speaker Ali Larijani.
Iran and Belarus have developed good relations in recent years, particularly in the economic and trade sectors, and have signed a number of agreements to boost cooperation.
In May 2016, Belarusian Prime Minister Andrei Kobyakov voiced his country's willingness to develop bilateral relations with Iran in various economic and political areas.