President: Iran, Azerbaijan Share Views on Regional Issues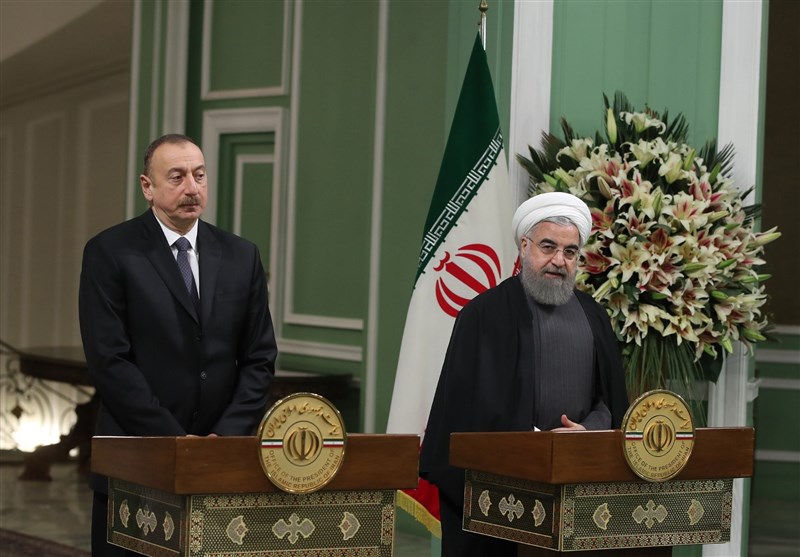 TEHRAN (Tasnim) – Iran and its northwestern neighbor Azerbaijan have common views on many regional issues, as on Syria and Iraq, Iranian President Hassan Rouhani said Sunday.
Speaking at a joint press conference with his Azeri counterpart Ilham Aliyev in Tehran, President Rouhani said Tehran and Baku have "very close views" on regional issues.
"We (both) consider terrorism that arises from the Salafi and Wahhabi ideology as a major threat to the region's security, and believe that terrorist ideologies must be uprooted from the region once and for all," President Rouhani said.
"We share views on Syria and Iraq as well," he added.
The president further highlighted the close consultation between Iran and Azerbaijan to formulate a lasting legal regime for the Caspian Sea by building a consensus among the lake's five littoral states.
He also unveiled plans for talks between Iran and Azerbaijan's oil ministers on close partnership to use the Caspian Sea's resources.
Heading a high-ranking delegation, the Azeri president arrived in Tehran on Sunday morning for an official visit.
At the conclusion of a joint meeting of high-ranking delegations, the two countries signed two memorandums of understanding (MoUs).
Aliyev last visited Iran in February 2016, when the two sides signed eleven agreements.