FM: Iran Sees No Limit to Ties with Kyrgyzstan
TEHRAN (Tasnim) – Iran does not consider any limit to the bilateral relations with Kyrgyzstan, Foreign Minister Mohammad Javad Zarif said on Wednesday, noting that strong bonds between the two countries have roots in history.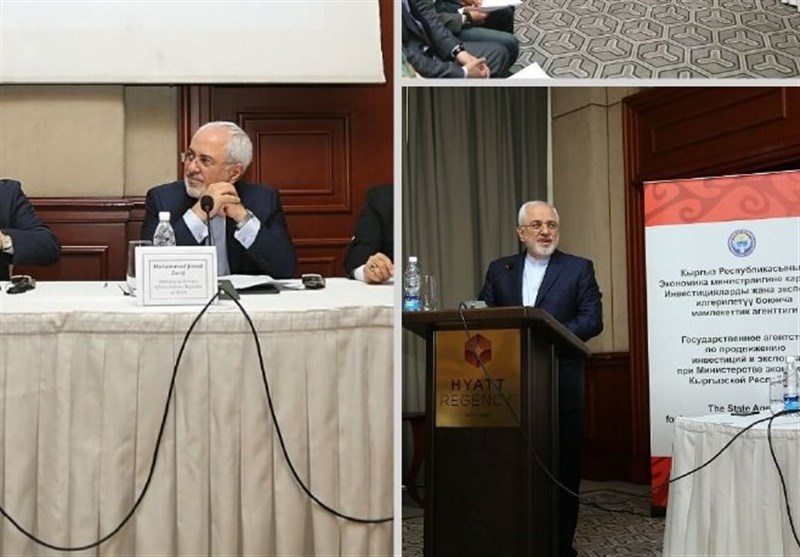 Addressing a conference on Iran-Kyrgyzstan trade ties in Bishkek, Zarif said the official diplomatic relations between the two states over the past 25 years originate from their cultural and religious commonalities, their neighborliness, and joint historical background.
"We consider no limit to the relations with Kyrgyzstan and are ready to expand ties in all fields," the top Iranian diplomat added.
Pointing to a delegation of business people from Iran's state-run and private sectors accompanying him in the trip to the Central Asian country, Zarif said Tehran and Bishkek can launch or promote cooperation in various fields, including technology and science, energy industry, construction projects, agriculture and animal husbandry, as well as mines and industries.
As regards the bilateral banking ties and financial transactions, Zarif called for serious efforts to facilitate interaction between the entrepreneurs of the two countries, expressing the hope that agreements between the central banks of Iran and Kyrgyzstan would stimulate private sectors' activities.
The Iranian foreign minister arrived in Bishkek on Tuesday night on the final leg of a regional tour that took him earlier to Turkmenistan and Georgia.