Iranians' High Turnout in Upcoming Votes to Frustrate Enemies: Leader
TEHRAN (Tasnim) – The Leader of the Islamic Revolution underlined the importance of the upcoming elections in Iran, saying the people of the country would massively participate in the polls and foil enemies' plots to undermine the Islamic Establishment.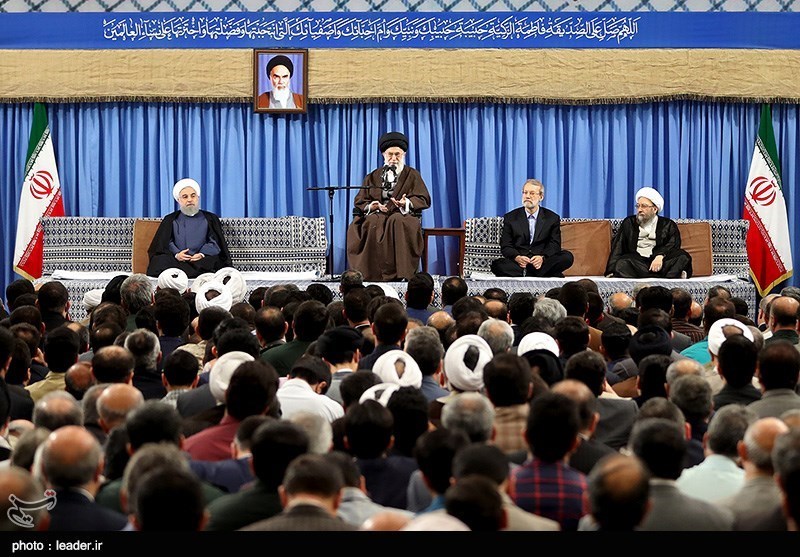 "The nation will disappoint the enemies of Islam and Iran by their (massive) presence in the forthcoming elections," Ayatollah Seyed Ali Khamenei said, addressing a gathering of the Iranian people, government officials, and ambassadors from Islamic countries, held in Tehran on Tuesday, on the occasion of Eid al-Mab'ath, the anniversary of the day Prophet Muhammad (PBUH) was chosen as God's messenger.
The Leader further highlighted various aspects of the elections, including the presidential vote, and said participation in the polls is a manifestation of the people's "dignity, right and power" to form the head of the executive branch of the government.
Ayatollah Khamenei hailed the Iranian nation's faith, unity and presence on the political scenes as factors behind the Islamic Republic's bravery and resistance in the international arena and said high turnout in the upcoming elections would be a good example of the people's presence.
Iran plans to stage the 12th presidential polls and the City and Village Councils elections simultaneously on May 19.
The number of eligible voters in the upcoming elections is estimated to be around 1.5 million higher than the 50.5 million in the previous round four years ago.
Elsewhere, the Leader pointed to the enemies' plots against Iran and Muslims and said the formation of terrorist groups under the name of Islam and attempts to sow discord in Islamic countries, like Iraq, Syria, Bahrain, and Yemen are part of Washington and the Tel Aviv regime's conspiracies against the religion.
"Of course, the global oppressors are more opposed to the Islamic Republic than other Muslim countries, but their main problem is Islam and all Muslims should recognize this fact," Ayatollah Khamenei added.
In recent years, some parts of the Muslim world have been plagued with conflicts, violence, and terrorism due to a lack of unity as well as plots hatched by the enemies of Islam.
Takfiri terrorist groups like Daesh (also known as ISIS or ISIL) have emerged in the Middle East, which are believed to have been created and supported by the West and some regional Arab countries.
The terrorist groups, which claim to be Islamic but whose actions are anything but, have been committing heinous crimes not only against non-Muslims but mostly against Muslims in the region.