Rouhani Holds Lead in Early Vote Results in Iran
TEHRAN (Tasnim) - Preliminary election returns released Saturday morning by Iran's Interior Ministry showed that 56 percent of more than 25 million votes counted from Friday's presidential voting have gone to Hassan Rouhani, giving him an unassailable lead in the election.
Results from only 26 million votes, of which 25,182,310 have been correct, indicate that incumbent President Rouhani have topped 56.3 percent against 38.9 percent for his main challenger Ebrahim Raisi, Ali Asghar Ahmadi, the head of the Interior Ministry's State Elections Committee said in a much-awaited press conference on Saturday morning.
According to figures from the partial count, President Rouhani has secured 14,619,848 votes, while Raisi has garnered 10,125,855, Ahmadi added.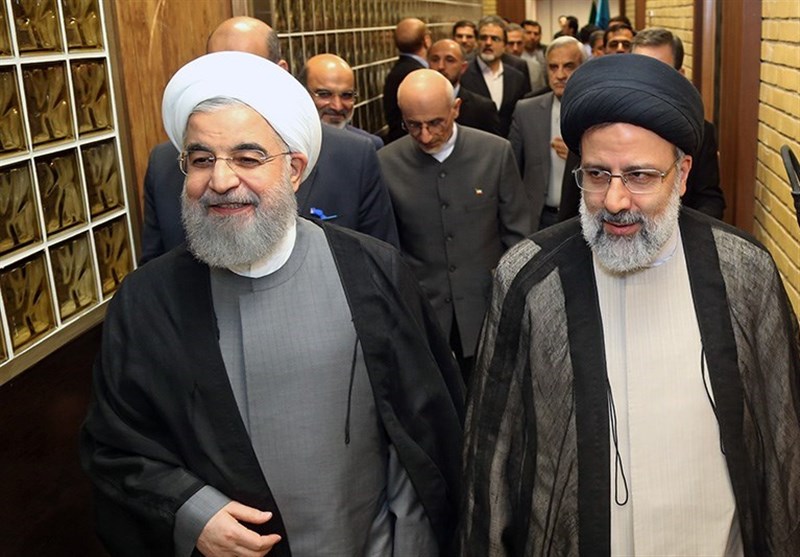 The two other candidates, Mostafa Aqa-Mirsalim and Mostafa Hashemitaba, are trailing behind with 297,276 and 139,331 votes, respectively.
Ahmadi also noted that around 40 million votes have been tallied so far, whose results will be made public later.
Of a total of 25,966,799 ballots that have been count, more than 784,000 (3.02 percent) have been declared spoilt votes.
By securing more than 50 percent of the votes, Rouhani is expected to be declared the outright winner.
More than 56,400,000 Iranian people were eligible to vote. 40 million voters would then translates into a turnout of around 71 percent.
Iranian expatriates in 103 countries cast their ballots simultaneous with the big turnout at home.
Polling stations across Iran closed at 12 o'clock Friday night after sixteen hours. The Interior Ministry had extended the voting three times in one of the country's most tightly contested elections.
During the previous presidential election in June 2013, Rouhani had emerged victorious by winning 50.7 percent of a total of over 36 million votes. He had won more than three times as many votes as his closest challenger.
Rouhani, a reformist, is a Muslim cleric and a lawyer with strong religious and revolutionary credentials. Before the victory of the Islamic Revolution in 1979, President Rouhani used to preach against the Shah (the toppled king of Iran), and had to change his name to avoid detection by the secret services. He joined the parliament after the revolution and held major posts such as head of the Supreme National Security Council.
After taking the office in 2013, President Rouhani managed to conclude nuclear negotiations with the Group 5+1 (Russia, China, the US, Britain, France and Germany) which resulted in the Joint Comprehensive Plan of Action (JCPOA), a 159-page agreement that put certain restrictions on Iran's nuclear program in return for a lifting of the sanctions and the unfreezing of billions of dollars in Iranian assets.
Rouhani's main rival in the election was Ebrahim Raisi, a principlist figure. Raisi is the chief custodian of the holy shrine of Imam Reza (AS) in the northeastern Iranian city of Mashhad, a role assigned by Leader of the Islamic Revolution Ayatollah Seyed Ali Khamenei.
Raisi, also a Muslim cleric and a top judge, was younger than Rouhani at the outset of the Islamic Revolution. He rose quickly through the ranks and used to work as Iran's prosecutor general before going to Mashhad for his new post.