Iran's Zarif Meets Kazakh President, Russian, Uzbek, Kyrgyz Counterparts
TEHRAN (Tasnim) – Iranian Foreign Minister Mohammad Javad Zarif, who is on an official visit to Kazakhstan, held talks with Kazakh President Nursultan Nazarbayev and his Russian, Uzbek, and Kyrgyz counterparts on issues of mutual interest.
In a meeting held in the Kazakh capital of Astana on Friday on the sidelines of the Shanghai Cooperation Organization (SCO) summit, Zarif met with Nazarbayev and exchanged views on various issues, including ways to deepen relations between Iran and Kazakhstan.
In a separate meeting also on Friday, Zarif held talks with Russian Foreign Minister Sergei Lavrov on bilateral relations between Tehran and Moscow.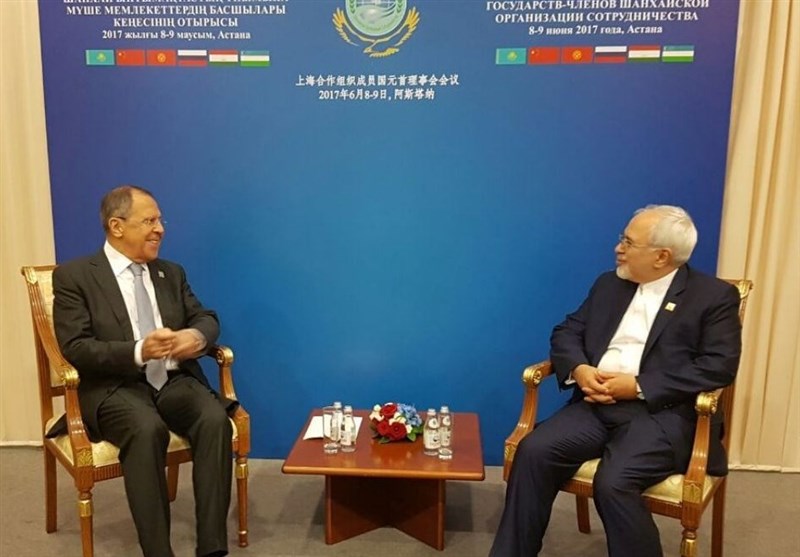 He also met with his Uzbek and Kyrgyz counterparts, Abdulaziz Komilov and Erlan Abdyldaev.
The Iranian top diplomat arrived in Astana on Thursday to participate in the two-day SCO summit and the opening ceremony of Astana Expo 2017. Iran's formal membership of the SCO will also be on the agenda of the summit.
The SCO is a Eurasian political, economic, and military organization founded by China, Russia, Kazakhstan, Kyrgyzstan, Tajikistan and Uzbekistan in 2001 to curb extremism in the region and enhance border security.
It has six observer states, namely Iran, Afghanistan, Belarus, Mongolia, India, and Pakistan. India and Pakistan are one step away from becoming SCO members.