Iranian Speaker Brands Israel as Mother of Terrorism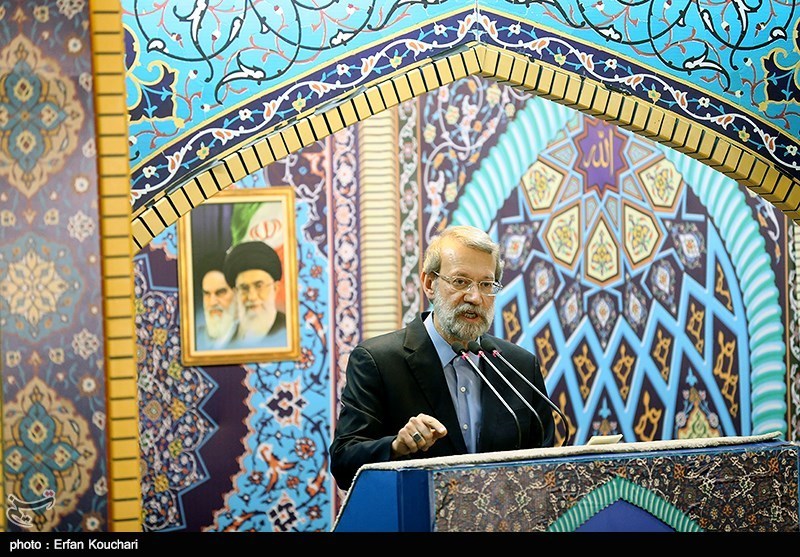 TEHRAN (Tasnim) – Iran's Parliament Speaker Ali Larijani denounced the Israeli regime as the mother of terrorism, saying it embodies the most malignant form of terrorist activities throughout history.
In an address to Friday prayers worshippers in Tehran, Larijani hailed the huge turnout in nationwide demonstrations marking the International Quds Days.
Enumerating the reasons and the logic behind Iran's support for Palestine, the speaker decried the Tel Aviv regime as the "mother of terrorism", saying the world has not witnessed any plot dirtier than what has displaced millions of Palestinians and has killed thousands of people in Palestine and Lebanon.
"Israel is the most malignant (type of) terrorist (moves) in the history," the Iranian speaker added, saying Daesh (ISIL) terrorist group has been also copied from the Zionist version of terrorism.
He also lashed out at the US government for its blind support for Israel and for ignoring the human rights violations by the Tel Aviv regime.
Larijani then condemned the US for its "scandalous" support for the "tribal Saudi regime", saying the American presidential candidates had repeatedly slammed Saudi Arabia for sponsoring terrorism in their electoral campaigns.
"We witnessed in recent days that they (Americans) conducted a power transition in this country (Saudi Arabia) very democratically," the speaker said with a hint of sarcasm.
In an abrupt decision on Wednesday, Saudi Arabia's king appointed his 31-year-old son Mohammed bin Salman as the crown prince, removing former crown prince Mohammed bin Nayef from all his posts.
Elsewhere in his remarks, Larijani praised a recent missile attack the Islamic Revolution Guards Corps carried out against the positions of Daesh terrorists in Syria as only a small part of Iran's activities in the fight against terrorism.
He further vowed response to the hostile measures the US Congress has taken against the Iranian nation.
Last week, the US Senate overwhelmingly passed a bill that would step up sanctions against Iran over its ballistic missile program and alleged support for terrorism.