France's Total, China's CNPC Sign Major Gas Deal with Iran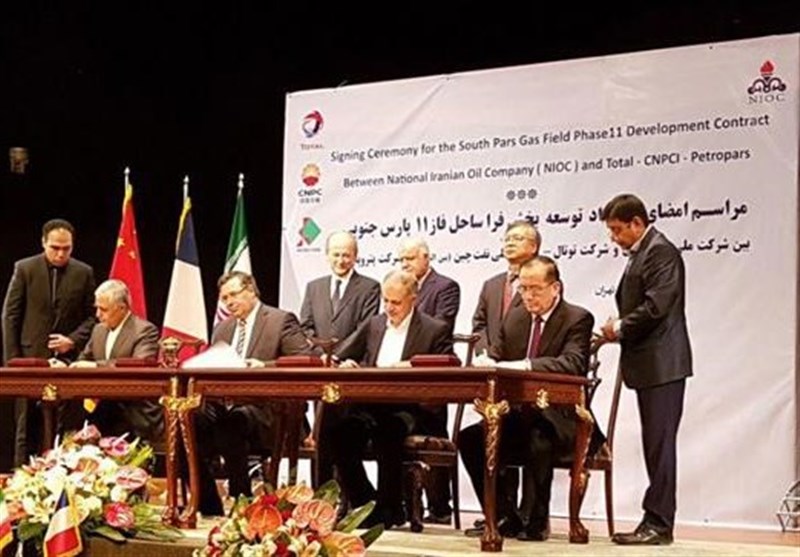 TEHRAN (Tasnim) – France's energy giant Total and China's National Petroleum Company (CNPC) struck a $5 billion agreement with Iran to develop its giant South Pars gas field.
The agreement was signed on Monday at a ceremony in Tehran attended by Iranian Oil Minister Bijan Namdar Zangeneh, Total's CEO Patrick Pouyanne and senior officials from China's CNPC and Iran's Petropars.
French Ambassador to Tehran Francois Senemaud was also present at the event.
Phase 11 of South Pars gas field will be developed in the framework of the Iran Petroleum Contract (IPC) by a consortium led by Total, which includes the CNPC and Petropars.
Total has a 50.1 percent share in the 20-year deal. The state-owned China National Petroleum Corp. has a 30 percent stake and Iran's Petropars has 19.9 percent.
The deal includes 30 wells and two production units.
During the ceremony, the Iranian minister congratulated all involved in the deal, saying it will lead to "more than $5 billion in foreign investments."
The vast offshore gas field is shared between Iran and Qatar, where Total is also a major player in gas production as well as in oil and refining. Tehran calls the giant field South Pars while Doha calls it the North Field.