China's Xi Jinping in Berlin to Talk Trade, Missiles, Pandas Ahead of G20
TEHRAN (Tasnim) - China's President Xi Jinping was greeted with full military honors when he arrived in Berlin. Talks with Chancellor Angela Merkel focused on cooperation ahead of a visit to the zoo to welcome two pandas sent from China.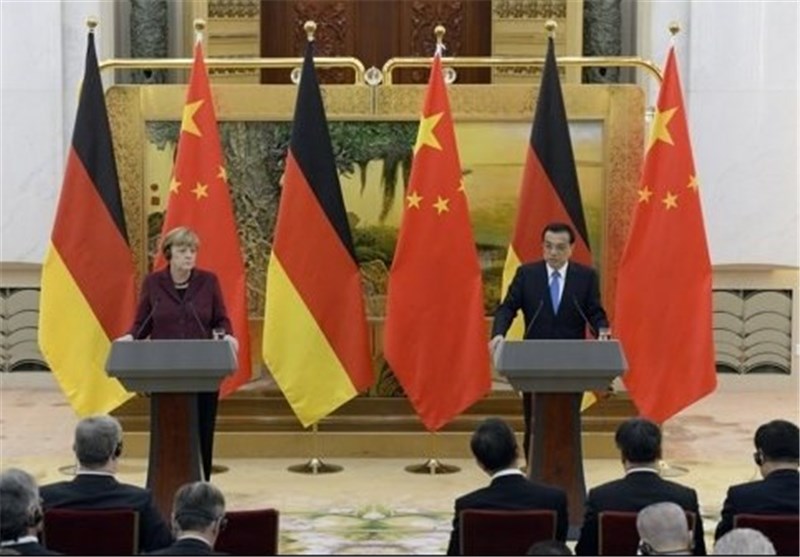 President Frank-Walter Steinmeier greeted the Chinese president with military honors on Wednesday at the start of a short but highly significant visit.
Xi then went on to his meeting with Chancellor Angela Merkel who said it was a "good opportunity" to expand relations between Germany and China before what she called difficult negotiations coming up at the G20 summit later in the week. She said the two countries could help calm the "unrest in the world."
Speaking after their morning meeting, Merkel said she would like to see a mutual opening of markets and wanted a quick signing of an investment treaty which could one day lead to a full free-trade agreement with China, Deutsche Welle reported.
She said there were options for Deeping cooperation with China on fighting international terrorism and cooperation with China in third countries in Africa and in Afghanistan was a possibility. Merkel said that an agreement to jointly build a hydro-power station in Angola had just been signed.
Merkel also raised the issue of human rights in China. She said discussions on civil society with Xi had been held and that a human rights dialogue must be continued.
The meeting came within context of a changed US administration and Tuesday's missile test in North Korea.
As the US administration follows an "America First" policy under President Donald Trump, Merkel told an election campaign rally "the EU cannot rely completely on the US and UK" and must be prepared "to take its fate into its own hands."
The US has threatened punitive trade measures against China over subsidized steel exports, and Trump is increasing pressure on Beijing to restrain North Korea, which announced on Tuesday it had test-launched an intercontinental ballistic missile it claimed could reach Alaska.
Writing in the German daily Die Welt on Tuesday, Xi called for an intensification of ties and that China and Germany should assume responsibility for peace, stability and prosperity.
Merkel had previously described Wednesday's meeting as pure "coordination" as she is known to prefer a broader global alliance for Germany on issues such as climate, trade and African development.
German officials in recent weeks have raised issues such as China's alleged involvement in cyber espionage and its human rights record. Most particularly in relation to the treatment for pro-democracy activist and Nobel Peace Prize winner Liu Xiaobo who is reported to be in the terminal stages of cancer. German doctors have offered to travel to China to help with Liu's treatment.
Merkel has also raised concerns over China's treatment of German businesses and efforts by Beijing to work individually with European states to further its economic aims.
"Beijing views Europe as an Asian peninsula. We see it differently," Merkel said. "Nevertheless, it is a fact that parts of German industry are dependent on China. So we need to deal with China's demands in a way that brings harmony and advantages for both sides."
Germany has been trying to persuade China to make concessions over electric vehicle production. The Beijing government has set a target of 8 percent of automakers' sales to be battery electric or plug-in hybrid vehicles by 2018, rising to 10 percent in 2019 and 12 percent in 2020. German carmakers have complained the targets are too much too soon.
At the end of May, German carmaker Daimler signed an agreement with its Chinese joint venture partner BAIC Motor Corporation to upgrade the Mercedes-Benz factory in Beijing to make New Energy Vehicles, a label for so-called low-emission vehicles which include hybrid and pure battery electric cars.
China's multi-billion infrastructure and development project which reaches across Asia to Europe and to Africa has also raised concerns in Europe.
China has announced it wants to share "growth, development and connectivity" and "collaborate more closely on concrete projects" with the EU. But EU leaders have raised concerns over adherence to market rules and international standards.
China's huge production capacity for steel has flooded world markets and threatened the robust industrial base the European Commission considers essential for jobs, growth, and competitiveness.
In 2012 China set up the "16+1" mechanism for annual meetings with the leaders of 16 countries including EU members Poland, Hungary, Bulgaria, Slovenia, the Baltic states and non-EU members including Serbia, Albania, and Montenegro.
A number of projects under "16+1" are underway - including the high-speed rail line from Belgrade, Serbia to Budapest, Hungary being built by one of China's top state-owned enterprises and Athen's Piraeus Harbor now controlled by the China Ocean Shipping Company (Cosco), which is investing in it to become of the largest container transit ports in Europe.
In 2016, Chinese foreign direct investments in the EU reached 35 billion euros ($39.6 billion,) a 77 percent increase over the previous year.