Erbil, Baghdad Hold Talks to Ease Tensions after KRG Independence Vote
TEHRAN (Tasnim) – The president of the Iraqi Kurdistan Region and two Iraqi vice presidents held a meeting to calm the tensions stoked by the Kurdistan Regional Government's move to hold an independence referendum.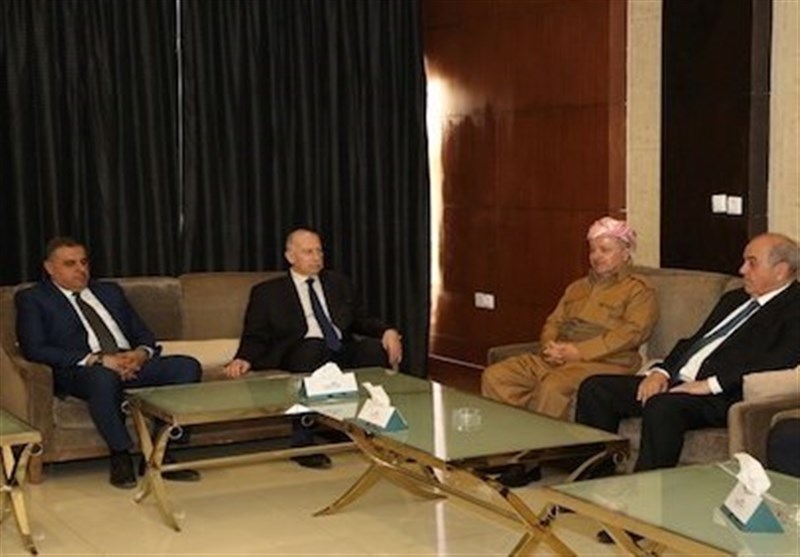 Masoud Barzani met with Iraqi vice presidents Ayad Allawi and Osama al-Nujaifi in Sulaymaniyah on Saturday to negotiate a solution to the stalemate that has emerged following the Kurdistan Region's independence referendum, Rudaw news agency reported.
According to Chief of Staff of the Kurdistan Region Presidency Fouad Hussein, the three officials have agreed on four points, including "the immediate lifting of punishments on the Kurdistan Region."
The Baghdad government has adopted a number of punitive measures, including a ban on international flights to and from the Kurdistan Region, in response to the September 25 referendum.
Iraq has also officially called on Iran and Turkey to only deal with the Baghdad central government on border ports and in oil matters.
Fouad Hussein said the three leaders have agreed on the launch of meetings between "Iraq's main political parties to calm the situation" and that the meetings should have an "open agenda."
He said Barzani and the two vice presidents agreed that the meetings start "in the near future."
Iraq's Kurds rushed headlong into a vote for independence on September 25, although neighbors and countries in the Middle East, including Iran and Turkey, voiced opposition to the vote and supported the Baghdad central government.