Good Coordination between IRGC, FM in Stances against Enemies: Commander
TEHRAN (Tasnim) – Commander of the Islamic Revolution Guards Corps Major General Mohammad Ali Jafari said Iranian Foreign Minister Mohammad Javad Zarif and the IRGC share the same stances against enemies of the Islamic Republic.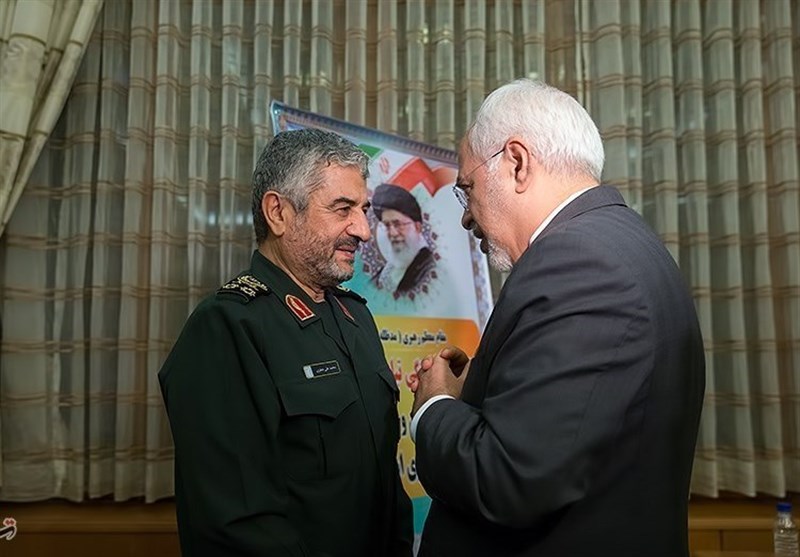 Speaking on the sidelines of a meeting in Tehran on Monday night to coordinate the ceremony due to be held on the 40th anniversary of 1979 Islamic Revolution, Major General Jafari underlined that although diplomatic words are different from those used by defense forces, their contents and stances are the same.
There is good coordination between the IRGC and Zarif in declaring stances against the enemies and their hostilities toward the Islamic Republic and its power in defense, political and social sectors, the commander noted.
"The stances that Mr. Zarif has declared also include security and defense sectors but the type of dialect and manner of speech are different," he stressed.
In a speech earlier in the meeting, Major General Jafari praised the Islamic Republic' growing power and said the country has turned into a major regional and world power and managed to pave the grounds for the Islamic Awakening in the region.
Iran is considered by many experts as the "island of stability" in a region which faces many security challenges.
In August 2016, Leader of the Islamic Revolution Ayatollah Seyed Ali Khamenei highlighted the strong security in Iran despite crises and insecurity in the region.
"Thank God and through the appreciated efforts and endeavors of the military and security forces, the country enjoys a strong security shield while regional countries are filled with incidents and insecurity," the Leader said.