Pakistani PM House Clarifies Reports on Ishaq Dar's Resignation
TEHRAN (Tasnim) - Pakistan's Federal Minister for Finance Ishaq Dar has tendered resignation from his post, media reports emerged on Saturday.
November, 18, 2017 - 13:13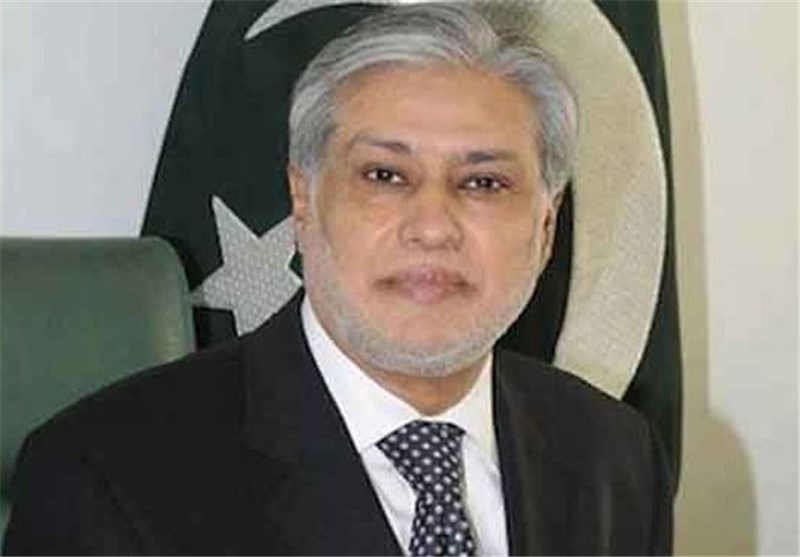 After his resignation, the ministry would be held by Prime Minister Shahid Khaqa Abbasi while an advisory committee on economic affairs would be set up to assist Abbasi, the local media added, Daily Pakistan reported.
On the other hand, people close to Pakistan Muslim League-Nawaz (PML-N) denied the reports and said that Dar has many other options to avail instead of resigning.
PM House spokesperson Mussadik Malik said that the prime minister was already running the affairs of the ministry due to illness of Dar, who is London for treatment.
He added that the prime minister was taking regular briefings on matters pertaining to finance and was managing the portfolio.
Earlier reports said the Finance Minister, who is in London for medical treatment, has taken the decision to relieve the charge after the National Accountability Bureau (NAB) asked the Ministry of Interior to put the name of Dar on the Exit Control List (ECL) following issuance of non-bailable arrest warrants.
Media reports suggest the prime minister would approve his resignation after consulting with party (Pakistan Muslim League-Nawaz) president Nawaz Sharif.
On Nov 13, the federal government had also replaced Fiance Minister Ishaq Dar with Interior Minister Ahsan Iqbal as representative of the government at the Council of Common Interest (CCI).
Speculation rife in the media suggests that names of Special Assistant to the Prime Minister on Economic Affairs Miftah Ismail, Shaukat Tareen and Dr Ishrat Husain are being considered to appoint economic advisers.
On 7 October 2008, Shaukat was appointed adviser to the government and was elevated to the post of finance minister after being elected as a senator from Sindh on 27 July 2009. Tarin resigned from the ministry on 23 February 2010 to "raise equity from the market for Silkbank," which while working at finance ministry was "a clear conflict of interest."
Before his ministerial role, Tarin served as the country manager of Citibank and did tenures as head of Habib Bank, Union Bank, and twice as chairman of Karachi Stock Exchange.
Dr Ishrat Husain was governor of the State Bank of Pakistan during Pervez Musharraf's regime. He became the chief economist for Asia-Pacific region in 1994. Between 1997 and 1999, he headed World Bank's operations in Central Asia.
On Nov 16, the accountability court hearing a graft reference against Finance Minister Ishaq Dar recommended the interior ministry to put his name on the exit control list (ECL).
Earlier, the National Accountability Bureau's court had issued non-bailable arrest warrants for the finance minister for his constant failure to appear before it.
In September, a NAB court had indicted Finance Minister Ishaq Dar in a reference regarding owning assets beyond his known sources of income.
The finance minister, who has skipped four court hearings on account of medical treatment, is accused by NAB of possessing assets disproportionate to his declared sources of income.
A corruption reference pertaining to Dar's owning assets disproportionate to his known sources of income was filed by the NAB in light of the Supreme Court's July 28 judgment in the Panama Papers case.