Pope Calls for Respecting 'Status Quo' of Jerusalem al-Quds
TEHRAN (Tasnim) – Pope Francis, speaking hours before US President Donald Trump's announcement on Jerusalem, on Wednesday called for the city's "status quo" to be respected, saying new tension in the Middle East would further inflame world conflicts.
December, 06, 2017 - 14:27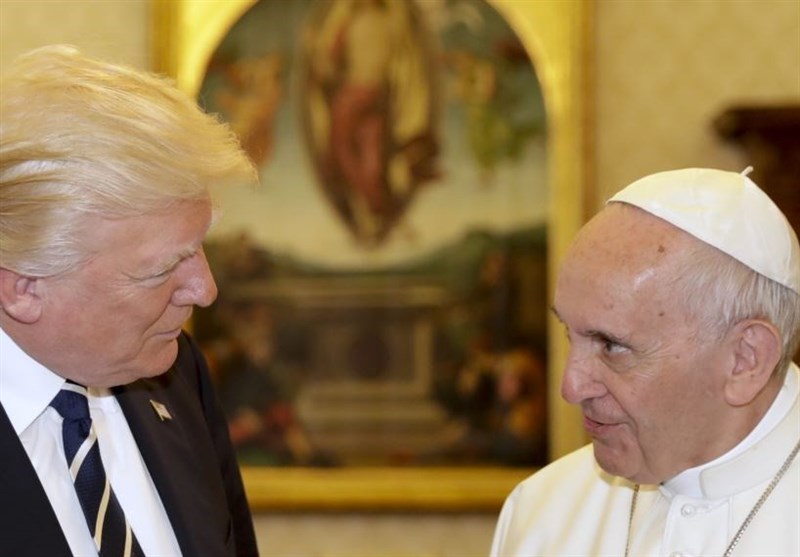 Trump is due on Wednesday to recognize Jerusalem al-Quds as th eIsraeli regime's capital and set in motion the relocation of the US Embassy to the ancient city, senior US officials said, a decision that upends decades of US policy and risks fueling further violence in the Middle East.
In an appeal at the end of his weekly general audience, Francis called for all to honor United Nations resolutions on the city, which is sacred to Muslims, Christians and Jews.
"I make a heartfelt appeal so that all commit themselves to respecting the status quo of the city, in conformity with the pertinent resolutions of the United Nations," he said, Reuters reported.
The pope told thousands of people at his general audience: "I cannot keep quiet about my deep worry about the situation that has been created in the last few days."
He said he hoped "wisdom and prudence prevail, in order to avoid adding new elements of tension to a global panorama that is already convulsed and marked by so many and cruel conflicts."
Before making his public comments, Francis met privately with a group of Palestinians involved in inter-religious dialogue with the Vatican.
"The Holy Land is for us Christians the land par excellence of dialogue between God and mankind," he said. He spoke of dialogue between religions "and also in civil society".
"The primary condition of that dialogue is reciprocal respect and a commitment to strengthening that respect, for the sake of recognizing the rights of all people, wherever they happen to be," he said to the group.
The pope spoke by telephone to Palestinian President Mahmoud Abbas about the crisis on Tuesday.