Iran's UN Envoy Lauds Defeat of US Quds Plan
December, 22, 2017 - 14:22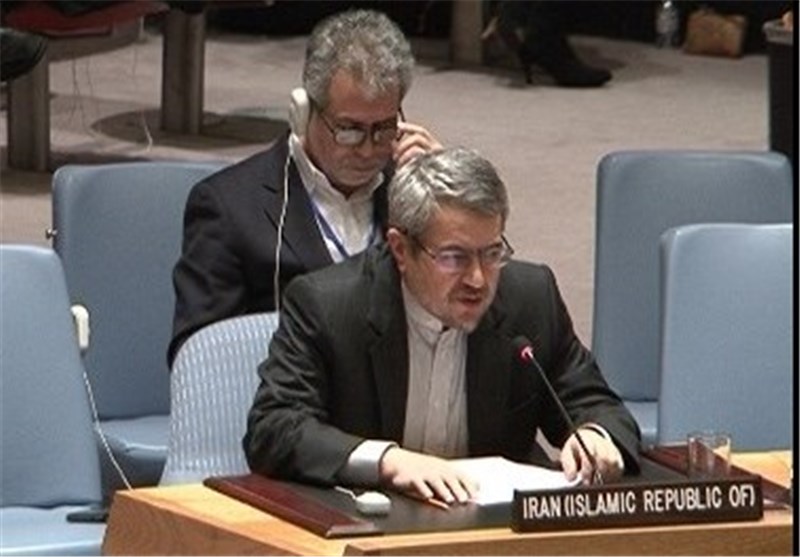 TEHRAN (Tasnim) – Iran's ambassador to the United Nations hailed the UN General Assembly's rejection of US President's plan to recognize the city of al-Quds (Jerusalem) as the capital of Israel, saying the Israeli occupation of Palestine remains at the heart of all Middle East conflicts.
Addressing a UN General Assembly's emergency special session on Thursday, Iran's UN Ambassador Gholam Ali Khoshroo praised the international community's rejection of the US "delusive intentions" after a resounding majority of UN member states defied unprecedented threats by the US to declare Donald Trump's recognition of al-Quds as Israel's capital "null and void".
The non-binding resolution was approved with 128 votes in favor and nine against, while 35 countries abstained. It passed despite intimidation by Trump, who had threatened on Wednesday to eliminate financial aid to member states who would vote against his decision.
In his remarks, Khoshroo lashed out at the US for aiding and abetting the Israeli regime by according it unconditional support and defending it by any means necessary.
The US has misused its veto power in the UN Security Council to shield the regime against the will of the international community, and its recent illegal decision made it clear that the United States sought only to secure the Israeli regime's interests and did not respect the legitimate rights of the Palestinian people, including their right to self‑determination, he deplored.
The Israeli occupation lays at the center of all crises and conflicts in the Middle East and beyond, a fact long acknowledged by the United Nations, Khoshroo said.
He also strongly condemned the reckless and unilateral attempt by Washington to distort the historical facts and replace them with fiction.
The US administration has done little to hide its intentions to shift the Security Council's focus from the question of Palestine to fabricated "alternative issues" in the region in order to give the Israeli regime more space to freely pursue its criminal practices, the Iranian envoy added.
During the rare emergency meeting on Thursday, the UN General Assembly voted overwhelmingly to ask nations not to establish diplomatic missions in the historic city of al-Quds, as delegates warned that the recent decision by the US to do so risked igniting a religious war across the already turbulent Middle East and even beyond.
Calling on all States to refrain from establishing embassies in al-Quds, it also demanded that they comply with all relevant Security Council resolutions and work to reverse the "negative trends" imperiling a two‑state solution.
Shortly after the vote, Palestinian leaders called the vote a victory for Palestine and thanked the UN member states that rejected Trump's unilateral move "despite all the pressure exerted on them".