Iran Raps 'Opportunistic' US Interference after Civil Protests
December, 30, 2017 - 16:04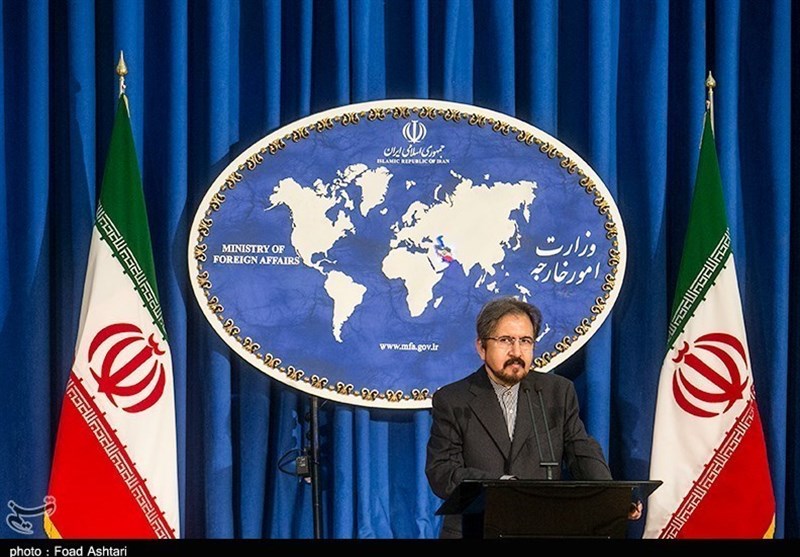 TEHRAN (Tasnim) – Iran's Foreign Ministry spokesman slammed as "cheap and worthless" the US president's meddling in the Islamic Republic's internal affairs, saying the US "opportunistic and deceitful" support for the recent protests in some Iranian cities spells nothing but hypocrisy.
In a statement on Saturday, Bahram Qassemi denounced the US president's interference in Iran's internal affairs, describing Donald Trump's comments about the recent peaceful protests in some Iranian cities as worthless remarks that lack credibility.
People of Iran place no value on the opportunistic claims made by the US officials and Trump, the spokesperson added, saying Iranians observe how Trump is actively involved in the violation of rights of Palestinians, Yemenis and Bahrainis and also keep in mind that the Trump administration has imposed hostile restrictions on Iranian people, has banned many from entering the US and has arrested a large number of Iranian expatriates in the US on bogus charges.
People of Iran see the US officials' opportunistic and deceitful support for the recent rallies in some Iranian cities as hypocrisy and part of a plot, Qassemi noted.
"The Islamic Republic of Iran's Constitution has taken into account the democratic structures for legal supports for people's civil demands, and it is quite possible to pursue those demands within the framework of law," the spokesman explained.
Taking a swipe at the US government for its dark record of hostile policies towards Iran, including Washington's role in a coup against Iran's democratically elected prime minister Mohammad Mosaddeq in 1953, its support for former Shah of Iran's suppression of revolutionary moves, and its full-fledged support for former Iraqi dictator Saddam Hussein in the imposed war on Iran in the 1980s, Qassemi added, "The US officials are in no position to sympathize with the great and understanding Iranian nation."
His comments came after the US president urged Iran to respect people's right to hold protest rallies. "Iranian govt should respect their people's rights, including right to express themselves. The world is watching," Trump said in a Twitter late on Friday.
It came after some protest rallies in some of the Iranian cities over the high costs of living and economic issues.
Following the peaceful civil rallies, the Western media outlets tried to portray the protests as a political uprising against the Establishment.
Iranian officials maintain that people have the right to stage protests to express their opinions, as long as the rallies comply with the legal conditions.
The American and Zionist news media's focus on the civil protests comes against a backdrop of nationwide demonstrations in Iran in commemoration of a huge rally back in 2009 in which the nation reaffirmed allegiance to the Islamic Republic Establishment and ended months of turmoil, including sacrilegious riots, following that year's presidential election.
On Saturday morning, people from different walks of life attended rallies in different cities to mark what has become known as "Dey 9" epic.