UN Chief Sounds "Red Alert" over Long-Lasting Conflicts, Terrorism
TEHRAN (Tasnim) - UN Secretary-General Antonio Guterres issued a "red alert" because of protracted conflicts, the spread of terrorism and other front-burner issues in the world.
January, 17, 2018 - 15:09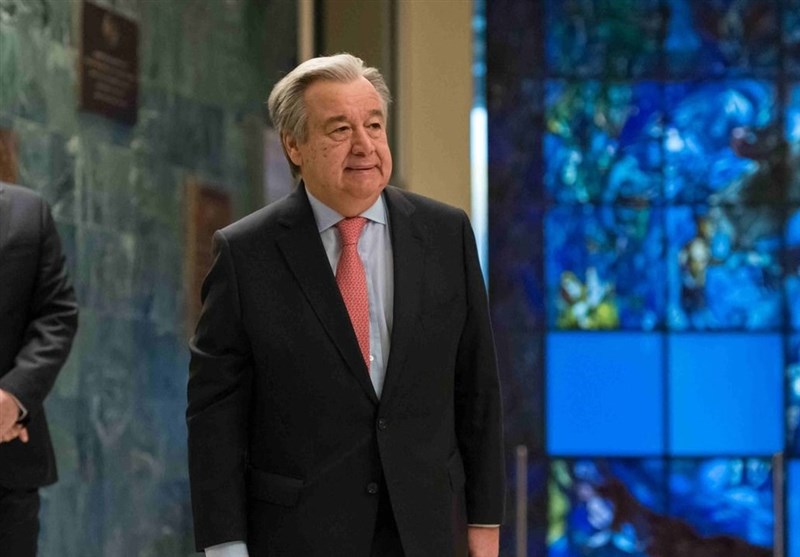 "We face a Gordian knot in the Middle East and potential nuclear catastrophe on the Korean Peninsula," said Guterres at his first news conference of the year at UN Headquarters, just after briefing UN members at an informal session of the 193-member General Assembly.
The UN chief touched on many topics, ranging from UN reform, sexual exploitation by peacekeepers to gender parity in UN positions, Xinhua news agency reported.
He opened with a focus on peace and security and what he saw as a failure of diplomacy.
Guterres recalled his first day as secretary-general last year issuing "an appeal for peace and called for a surge in diplomacy to end the crises that were causing so much suffering."
He noted that "At the beginning of 2018, we must recognize the many ways in which the international community is...falling short."
"Climate change is moving faster than we are...Inequality and nationalism are on the rise," Guterres said, adding that instead, trust and solidarity are on the decline.
He further explained that the world needs "bold leadership" in the face of today's challenges. "We need less hatred, more dialogue and deeper international cooperation."
The world's chief diplomat told reporters that he was going to South Korea next month for the opening ceremony of the Winter Olympic Games in Pyeongchang.
"I hope the Olympic spirit of friendship among nations will spread across the region and beyond," Guterres said, referring to the Korean Peninsula threat.
At the session attended by representatives of member states, he said he was "encouraged by the decision of the Democratic People's Republic of Korea (DPRK) to participate in the Winter Olympics in South Korea.
"We need to build on these small signs of hope, and expand diplomatic efforts to achieve the peaceful denuclearization of the Korean Peninsula in the context of regional security," Guterres said, calling it one of his priorities for 2018.
"I welcome the reopening of inter-Korean communication channels, especially military-to-military," he said, adding that it is critical to lower the risk of miscalculation or misunderstanding and to reduce tensions.
He also said that he welcomed "the firm decisions the Security Council has taken in response to nuclear tests and ballistic missile launches by the DPRK."
"They must be fully implemented," he said, referring to the additional sanctions recently imposed.
Guterres believed that the council's unity also paves the way for diplomatic engagement, and that's why he sent UN Under-Secretary-General for Political Affairs Jeffrey Feltman to Pyongyang last month for the first in-depth political exchange of views between the UN Secretariat and DPRK officials in almost eight years.
The UN chief further explained that the situation in the broader Middle East has become a Gordian knot. "With so many inter-related flash points, the risk of an escalatory cycle is real."
He called for a return to negotiations between Israelis and Palestinians. "There is no alternative to a two-state solution. Recent signals of diminishing support for this undermine moderates and empower radicals. There is no plan-B."
He asked for efforts to preserve Lebanon's sovereignty and stability, and strengthen state institutions.
In war-torn Yemen, he said, it is time for the parties to enter into meaningful peace negotiations beyond efforts to ease the dramatic humanitarian catastrophe.
For the Gulf region, he urged parties to seize all opportunities to establish and strengthen platforms for regional dialogue, avoid escalations and allow for political solutions to emerge.
In Syria, Guterres said the United Nations will continue its engagement toward genuine, representative and direct intra-Syrian negotiations in Geneva, leading to a political settlement of the conflict.
He also reiterated support for efforts to ensure Iraq's territorial integrity, pursue inclusive governance and ease sectarian tensions.