US, European Officials to Meet on Iran Nuclear Deal
TEHRAN (Tasnim) – The US and three European countries will begin formal talks as early as next week on what the Trump administration considers flaws in the 2015 Iran nuclear agreement.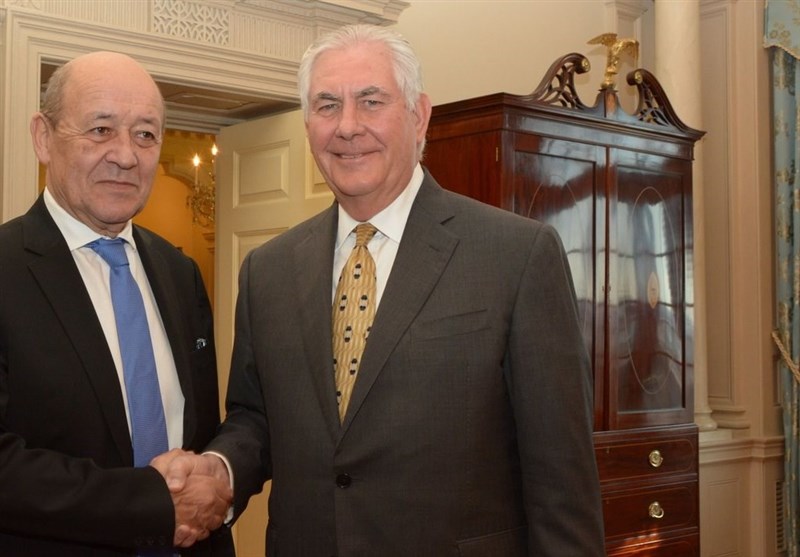 "The US is under a bit of a timetable to deliver on what the president is looking for. But we can't set timetables for others," Tillerson told reporters traveling with him on Monday, on a flight from London to Paris, The Wall Street Journal reported.
President Donald Trump said earlier this month he wouldn't renew US sanctions relief to Iran in May, as required under the nuclear accord, unless Europe goes along by then with a supplemental agreement to restrict Iranian missile testing and development, provide for expanded inspections and extend prohibitions on nuclear-weapons work.
Tillerson didn't provide many details, but said diplomats from the State Department would travel to Europe as early as next week to discuss a side arrangement with officials from Germany, France and the UK.
"It's all being worked on as a package because that's the way we're going to have to deal with it ultimately," he said.
British Foreign Secretary Boris Johnson said Monday he and his French and German counterparts agreed with Tillerson in a previous meeting that Europe needs to "look at what Iran is doing on the ballistic-missile front and to work out what we can do collectively to constrain that activity and make a big difference there."
Johnson said the European bloc is on board as long as those efforts are "in parallel and don't vitiate the fundamentals of the Iran nuclear deal."
French Foreign Minister Jean-Yves Le Drian on Monday signaled his willingness to discuss an agreement on ballistic missiles.
Speaking to reporters ahead of a meeting of European Union foreign ministers, Le Drian said France is also concerned about what he called Iranian "destabilization in the region".
Iran, Russia and China have opposed changes to the nuclear agreement. US officials, however, claim any new agreements on additional sanctions wouldn't require buy-in from other parties to the nuclear deal, because they are outside of the 2015 accord and would likely entail sanctions not related to it.
Tillerson is set to meet Le Drian Tuesday in Paris to discuss Iran, Syria and other issues.