Palestinian Teenager Ahed Tamimi's Trial Begins behind Closed Doors
TEHRAN (Tasnim) – A teenage Palestinian protester filmed slapping and kicking two soldiers outside her home has appeared before an Israeli military court to face various charges including assaulting security forces, incitement and throwing stones.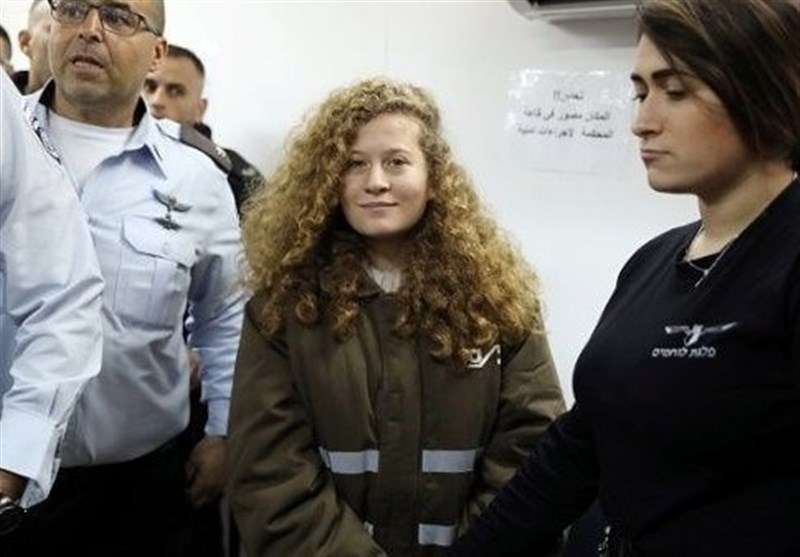 Ahed Tamimi, who turned 17 in jail last month, arrived on Tuesday morning for the first day of what could be a months-long trial, in what has become a symbolic case in the battle for international public opinion, AP reported.
The judge ordered a closed-door hearing and ejected a large group of journalists who had gathered at the Ofer prison, despite a request by Tamimi's lawyer for the media to be able to observe proceedings.
Tamimi's supporters say the incident in December occurred soon after she discovered Israeli troops had seriously wounded her 15-year-old cousin, who was shot in the head with a rubber bullet during a stone-throwing clash.
Arrested in the middle of the night and since denied bail, Tamimi could face years in prison for what prosecutors argue was a criminal offense. She faces 12 charges, some of which date back to 2016.
Tamimi's father, Bassem, said on Tuesday that he arrived at trial "with no good expectations, because this a military court, and it's part of the Israeli military occupation".
Some of Israel's critics have said the case epitomizes its brutal approach half a century after its forces occupied the West Bank, Gaza Strip and east Jerusalem (al-Quds).
Rights groups have called for her immediate release.
"As an unarmed girl, Ahed posed no threat during the altercation with the two Israeli soldiers who were heavily armed and wearing protective clothing," said Magdalena Mughrabi, Amnesty International's deputy director for the Middle East and Africa.
"Yet again the Israeli authorities have responded to acts of defiance by a Palestinian child with measures that are entirely disproportionate to the incident in question."
The footage of Tamimi led to the teenager being hailed as a hero by Palestinians, who saw her as standing up to Israel's occupation of the West Bank.