Azeri President Hails Growing Military Ties with Iran
TEHRAN (Tasnim) – The Republic of Azerbaijan's President, Ilham Aliyev, hailed the expanding military and defense cooperation with Iran, describing his frequent meetings with Iranian officials as a sign of close ties with the Islamic Republic.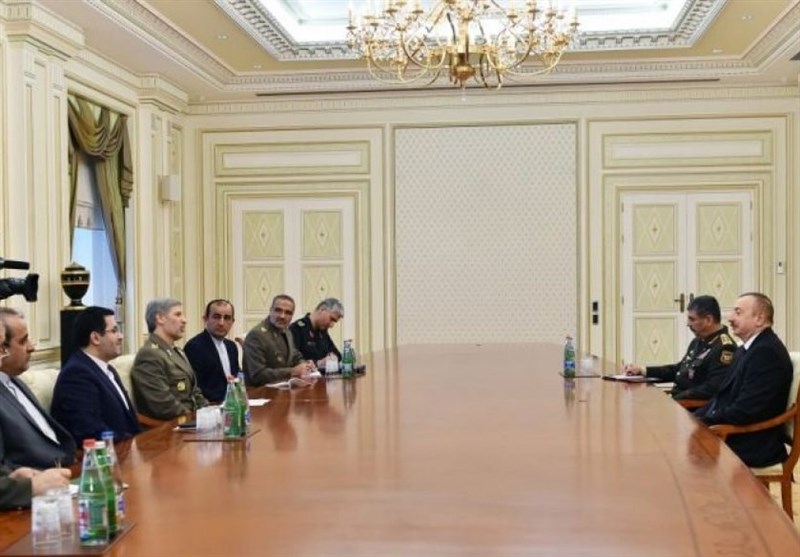 In a meeting with Iranian Defense Minister Brigadier General Amir Hatami in Baku on Wednesday, Aliyev said the "brotherly and friendly ties" between the two neighbors have successfully developed in various areas, as in the military and defense industries.
He also described the Iranian minister's trip as a great opportunity for talks on the future of Tehran-Baku military cooperation.
Aliyev referred to some 10 meetings with his Iranian counterpart in recent years as a testimony to the high level of the bilateral ties.
For his part, the Iranian minister underlined that Tehran's foreign policy is based on strong links with the neighbors, particularly the Republic of Azerbaijan.
Heading a top military delegation, General Hatami has travelled to Baku at the invitation of his Azeri counterpart Zakir Hasanov for a two-day visit.
Speaking to reporters upon his arrival in Baku on Wednesday morning, the Iranian general said his visit could contribute to regional security and stability and also to closer bilateral ties.
Iran and Azerbaijan have accelerated efforts in recent years to forge closer partnership in various areas.
In February 2016, Aliyev paid an official visit to Tehran, during which the two sides signed eleven memorandums of understanding and agreements to promote mutual cooperation in a range of fields.