Iran's Velayati Meets Iraqi Tribal Figures
February, 26, 2018 - 16:13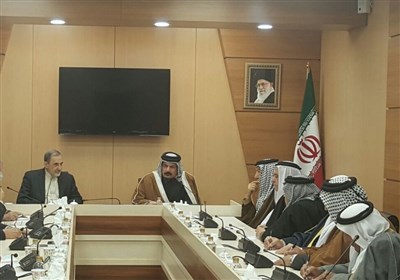 TEHRAN (Tasnim) – Ali Akbar Velayati, an international adviser to the Leader of the Islamic Revolution, met a delegation of prominent figures from Iraq's major Sunni tribes on Monday.
In the meeting in Tehran, Velayati expressed the hope that reciprocal visits by the two countries' political, religious and social figures would continue and lead to closer ties between the Islamic Republic and the Arab country.
Speaking at the session, Jasim Kalani, the spokesman for the Iraqi delegation, highlighted the role of Iraqi tribes in the country and said for two years after the US invasion (in 2003), no independent government had been established in Iraq and the tribes ran the country.
He further emphasized that the US was not willing to see a safe and secure Iraq and therefore began to sow discord among the Arab country's tribes but the US conspiracy was foiled by prominent Iraqi figures.
Iran has always voiced support for Iraq's unity, territorial integrity and prosperity.
The country has also provided military advisory assistance to Iraq in its counterterrorism battle at Baghdad's request.
When the Daesh (ISIL) terrorists entered Iraq in the summer of 2014, Iran was the first country to help Baghdad against the terror group.