US Policies Only Serving Israeli Regime's Interests: IRGC Commander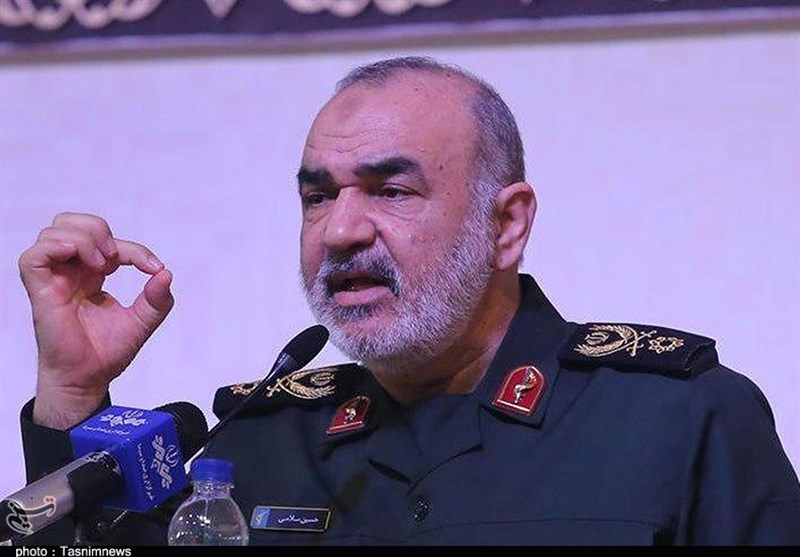 TEHRAN (Tasnim) – Islamic Revolution Guards Corps (IRGC) Lieutenant Commander Brigadier General Hossein Salami blamed the US for Israel's continued oppression against Palestinians and said Washington's policies are always adjusted to the Zionist regime's interests.
"It has been 70 years that a poisonous dagger (Israeli regime) has gone deep into the flank of the Islamic Ummah (community), and all the tragedies of the Islamic world are due to the existence of the fake and rootless... regime of Israel," Brigadier General Salami said in a speech in the northeastern holy city of Mashhad Friday.
The regime has caused the Palestinian nation to be deprived of and displaced from their motherland, he said, adding that even those Palestinians who stayed in their territory have been imprisoned, besieged and subjected to the most severe attacks.
The commander further pointed to the Western support for the Israeli crimes against Palestinians and said the US and Europe have always backed Tel Aviv with all their power and provided billions of dollars of financial assistance for the regime.
The US policies are adjusted to the interests of the Zionist regime, Brigadier General Salami said, adding that there is "a deep-rooted ideological bond" between Washington and Tel Aviv as "two dangerous entities of the world".
The remarks came as countrywide demonstrations marking the International Quds Day were held in more than 900 cities of Iran on Friday with thousands of reporters covering the event.
The International Quds Day is an annual event during which demonstrators express their solidarity with the Palestinian people and opposition to the occupation of the Palestinian territories by the Zionist regime of Israel.
The day is also seen as the legacy of the late founder of the Islamic Republic of Iran, Imam Khomeini, who officially declared the last Friday of the holy month of Ramadan as International Quds Day back in 1979.