Participants in Iran's Quds Day Rallies Pledge to Remove 'Cancerous Tumor of Israel'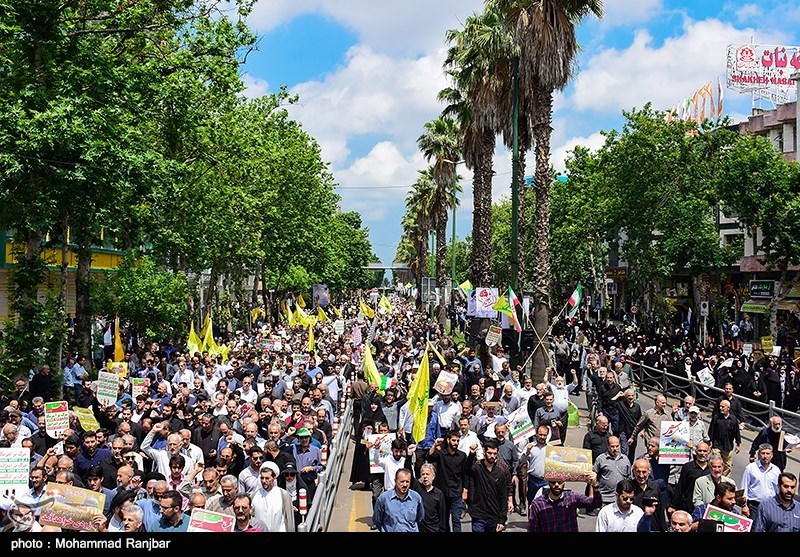 TEHRAN (Tasnim) – The Iranian people attending nationwide demonstrations on the International Quds Day reaffirmed their commitment to supporting the Palestinian people and vowed to make every effort to remove "the cancerous tumor of Israel".
In a final statement issued after holding mass rallies in the Iranian capital of Tehran and 900 other cities of the country on Friday, demonstrators voiced their support for the "oppressed" nation of Palestine and reiterated their support for the liberation of the holy city of al-Quds (Jerusalem) from the Zionist regime.
The participants in the nationwide demonstrations also emphasized that the "fake, child-killer, and occupying regime" of Israel will definitely collapse.
"We regard the liberation of the holy Quds and the freedom of the oppressed people of Palestine from the Zionist occupiers' domination and the struggle for the elimination of the cancerous tumor of Israel, as the supreme cause of the Islamic Revolution and a decisive strategy of Imam Khomeini (RA)…," the statement noted.
The declaration also condemned the US peace plan for Israeli-Palestinian conflict known as "the deal of the century" as a plot to continue the heinous crimes of Israel and violate the inalienable rights of the Palestinian people.
The only way to settle the issue of Palestine will be the return of all displaced Palestinians from around the world to their motherland and holding of a free referendum to decide the fate of their country, according to the statement.
The 9-article resolution has also condemned the US and Saudi governments for their support for the Israeli regime and hostile attitudes toward the Iranian nation.
Millions of fasting Iranian people from different walks of life poured into the streets on Friday to join the demonstrations in support of Palestinians, who have been suffering from Israel's atrocities for decades.
Each year, the International Quds Day is celebrated on the last Friday of the Islamic holy month of Ramadan.
The event's raison d'être is renewing support for the Palestinians and denunciation of Israel.
The day is also seen as the legacy of the late founder of the Islamic Republic of Iran, Imam Khomeini, who officially declared the last Friday of the holy month of Ramadan as International Quds Day back in 1979.