World Cup: Kroos Strikes Late in Thrilling Win
TEHRAN (Tasnim) - The atmosphere at Fisht Stadium in Sochi was raucous and intense on Saturday as Germany and Sweden went toe-to-toe in a Group F match that more than lived up to expectations.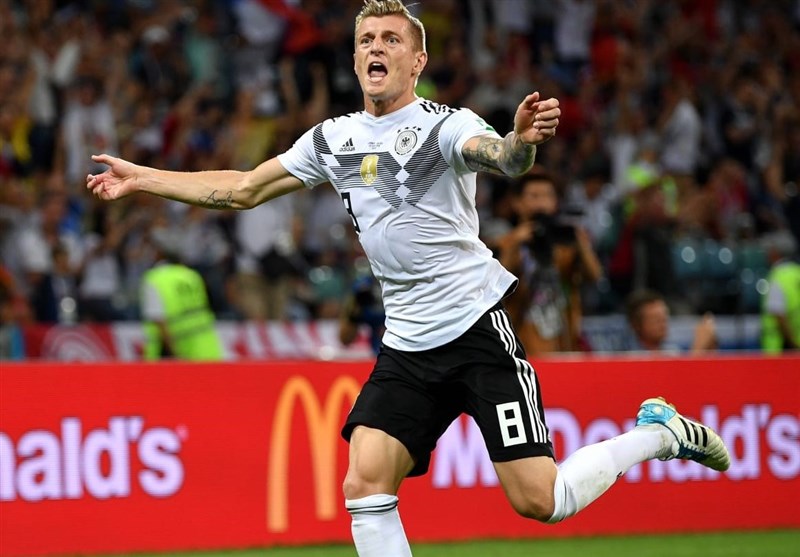 Keeping supporters on the edge of their seat until the dying seconds, Toni Kroos's incredible free-kick secured all three points for the reigning world champions with a 2-1 victory.
The game started as it would go on: Germany attacked Robin Olsen's goal with abandon, but the Swedish rearguard stood firm. However, like against Mexico, the counter-attacking sucker punch was their downfall. Having already threatened, Ola Toivonen found a way past the imposing Manuel Neuer with a fantastic lob just after the half-hour mark.
Low rallied his troops and sent on Mario Gomez at half-time to bolster the German front line, but it was the irrepressible Marco Reus who conjured up an equaliser, the ball bouncing in off his knee. Despite enjoying the lion's share of possession, Germany continued to squander chances, with Gomez missing the most clear-cut opportunity.
Jerome Boateng's sending-off for a second yellow card in the 82nd minute hardly improved matters for Germany, nor did Olsen's stunning reflex saves or a Julian Brandt shot that came back off the post, Fifa.com reported.
However, the Blagult No1 could do nothing about Kroos' stoppage-time winner, which flew past him like a rocket and put an end to his team's hopes of taking something from the game.