Iranian Nation Never to Succumb to US Bullying: President Rouhani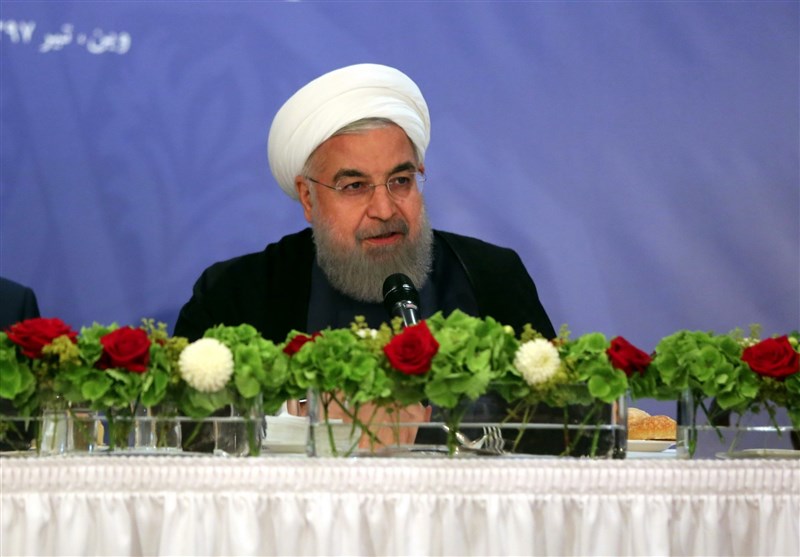 TEHRAN (Tasnim) – Iranian President Hassan Rouhani, who is in Austria on an official visit, slammed the US government's hostile policy to raise economic pressures on the Islamic Republic and said Iranians will never give in to Washington's bullying.
"The Americans wrongly think that if they pressure the Iranian people, they will capitulate in the face of a language of force, threat and humiliation," Rouhani said in the Austrian capital of Vienna on Tuesday night, addressing a meeting with Iranian expatriates living in the Central European country.
"Because in the past, no power has ever been able to force the great nation of Iran to give in to irrational words," he added.
Rouhani further pointed to Washington's isolation in the international arena following its withdrawal from the 2015 nuclear deal, known as the Joint Comprehensive Plan of Action (JCPOA), and said the US administration's objective was to isolate Iran but its move to walk away from the deal will backfire and cost it dearly.
This is the first time that the US is plotting against the Iranian nation without having any support in the international community other than from a few small countries, he said.
Rouhani arrived in Vienna on Tuesday on the second leg of his tour of Europe, which had already taken him to Switzerland.
The Iranian president has enhanced political contacts with foreign leaders on the ways to save the JCPOA after the US exit.
On May 8, the US president pulled his country out of the JCPOA, which was achieved in Vienna in 2015 after years of negotiations among Iran and the Group 5+1 (Russia, China, the US, Britain, France and Germany).
Following the US exit, Iran and the remaining parties launched talks to save the accord.
Meanwhile, Leader of the Islamic Revolution Ayatollah Seyed Ali Khamenei has underlined that any decision to keep the JCPOA running without the US should be conditional on "practical guarantees" from the Europeans.