UK's Official Brexit Campaign Fined, Referred to Police
TEHRAN (Tasnim) - Britain's official Brexit campaign, Vote Leave, has been fined for breaking spending rules in the 2016 EU membership referendum, the Electoral Commission announced Tuesday, adding that it had referred the case to the police.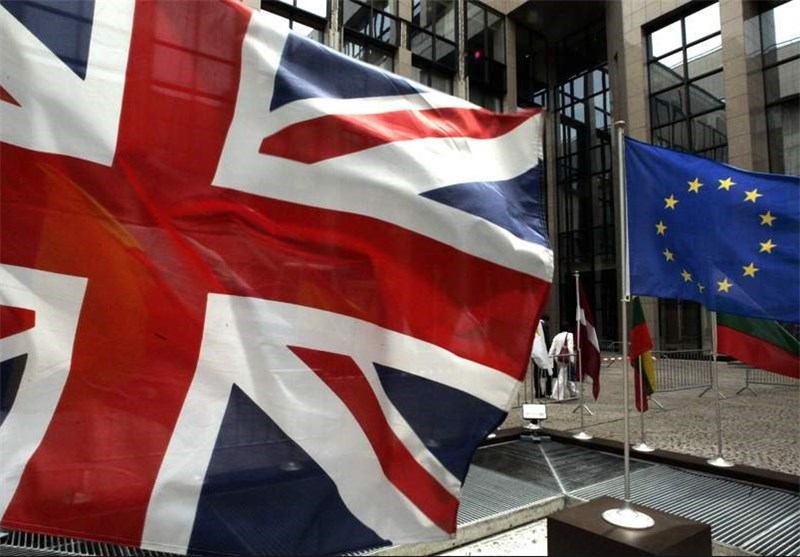 The Electoral Commission regulator said the winning side in the referendum had worked together with a smaller pro-Brexit group called BeLeave and had made a donation to the youth organization to get around its own campaign finance limits.
"We found substantial evidence that the two groups worked to a common plan, did not declare their joint working and did not adhere to the legal spending limits," said Bob Posner, the commission's director of political finance and regulation.
"These are serious breaches of the laws put in place by parliament to ensure fairness and transparency at elections and referendums," Posner said, AFP reported.
A Vote Leave spokesman accused the Electoral Commission of being "motivated by a political agenda rather than uncovering the facts".
The spokesman said there were "a number of false accusations and incorrect assertions that are wholly inaccurate and do not stand up to scrutiny".
In the referendum, the official pro- and anti-Brexit campaign groups, designated by the Electoral Commission, had spending limits of £7 million ($9.3 million, 7.9 million euros).
The commission's report found that the Vote Leave campaign made a donation of more than £675,000 to BeLeave, and because they worked together had thereby exceeded the £7 million spending limit by almost £500,000.
The report said BeLeave, which was founded by fashion student Darren Grimes, spent more than £675,000 with AggregateIQ, a Canadian digital political advertising company, under a "common plan" with Vote Leave.
Shahmir Sanni, who worked with Vote Leave, alleged the money was used to pay AggregateIQ for targeted messaging services on Facebook and other social media.
AggregateIQ was mentioned in the scandal over Cambridge Analytica, a now defunct British company accused of misusing data obtained from Facebook to micro-target political ads.
Christopher Wylie, a Cambridge Analytica whistleblower, said that AggregateIQ was linked to Strategic Communication Laboratories, CA's parent company.
AggregateIQ insists it has never been part of CA or SCL, never entered into a contract with CA and has never employed Wylie.
The Electoral Commission said Vote Leave, which had support from leading Eurosceptic Boris Johnson, also returned an incomplete and inaccurate spending report and failed to submit some invoices for its spending.
The independent body said it had referred the case to police "in relation to whether any persons have committed related offences which lie outside our regulatory remit".
Vote Leave was fined £61,000 and Grimes was fined £20,000, the maximum levy for an individual.
But the Vote Leave spokesman said it had provided evidence to the Electoral Commission "proving there was no wrongdoing".
"We will consider the options available to us, but are confident that these findings will be overturned," he said.
Grimes said allegations that he colluded with Vote Leave had never been put to him by the commission in two years of interaction.
He claimed he had been fined for "the wrong box being ticked on an application form" and said the fine was "entirely disproportionate and unjustified".
"I did nothing wrong," he insisted.
In the referendum, 52 percent voted for Britain to leave the EU. It is set to quit the bloc in March.
David Lammy, a pro-EU main opposition Labor lawmaker, said: "This news makes the narrow referendum result look dodgier than ever. Its validity is now in question."
The fines, and any possible criminal convictions, would not annul the 2016 referendum result.
Prime Minister Theresa May wants Britain to remain economically close to the EU by adhering to its common standards on goods.
However, she faces a tough time getting her proposals through parliament, with hardcore Brexiteers in her Conservative Party expected to rebel in votes later Tuesday.
The pro-EU Liberal Democrat opposition party's Brexit spokesman Tom Brake said Vote Leave was a "deeply dishonest campaign" and Tuesday's findings strengthened the need for a new referendum on whatever final departure deal May strikes with Brussels.
"The public have been cheated," he said.