Zarif to Trump: 'We've Been Around for Millennia, Seen Fall of Empires'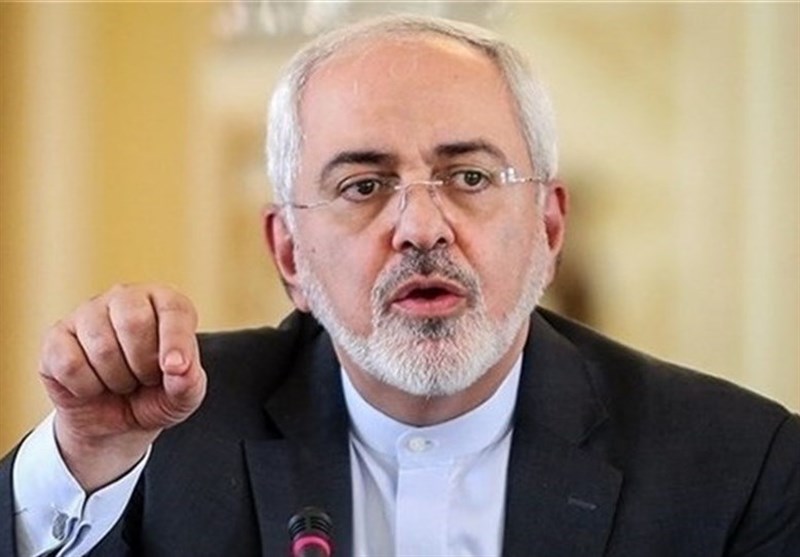 TEHRAN (Tasnim) – Iranian Foreign Minister Mohammad Javad Zarif warned the US president to be cautious after Donald Trump unleashed a public rant against Iranian President Hassan Rouhani on Monday, telling him "never threaten the US again".
"COLOR US UNIMPRESSED: The world heard even harsher bluster a few months ago. And Iranians have heard them —albeit more civilized ones—for 40 yrs. We've been around for millennia & seen fall of empires, incl our own, which lasted more than the life of some countries. BE CAUTIOUS!," Zarif said late on Monday in a message posted on his Twitter account.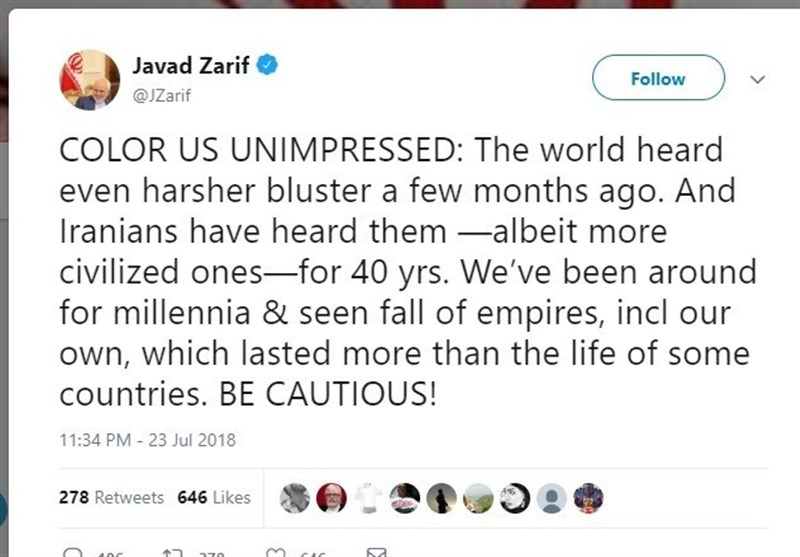 It came after Trump late on Sunday tweeted, "NEVER, EVER THREATEN THE UNITED STATES AGAIN OR YOU WILL SUFFER CONSEQUENCES THE LIKES OF WHICH FEW THROUGHOUT HISTORY HAVE EVER SUFFERED BEFORE. WE ARE NO LONGER A COUNTRY THAT WILL STAND FOR YOUR DEMENTED WORDS OF VIOLENCE & DEATH. BE CAUTIOUS!" Trump said in an all-capital post on his Twitter account on Monday."
The Iranian president on Sunday cautioned Trump about pursuing hostile policies against Tehran, saying, "Peace with Iran is the mother of all peace and war with Iran is the mother of all wars."
"You are not in a position to incite the Iranian nation against Iran's security and interests," Rouhani said, in an apparent reference to reports of efforts by Washington to destabilize Iran.
The Trump administration has launched an offensive of speeches and online communications meant to foment unrest inside Iran and support anti-Iranian groups, US officials familiar with the matter said.
More than half a dozen current and former officials said the campaign, supported by Secretary of State Mike Pompeo and national security adviser John Bolton, is meant to work in concert with US President Donald Trump's push to economically throttle Iran by re-imposing tough sanctions, according to Reuters.
The drive has intensified since Trump withdrew on May 8 from the 2015 nuclear deal between Tehran and world powers.
The current and former US officials said the campaign paints Iranian leaders in a harsh light, at times using information that is exaggerated or contradicts other official pronouncements, including comments by previous administrations.