Iran, Kazakhstan Plan Trade in Own Currencies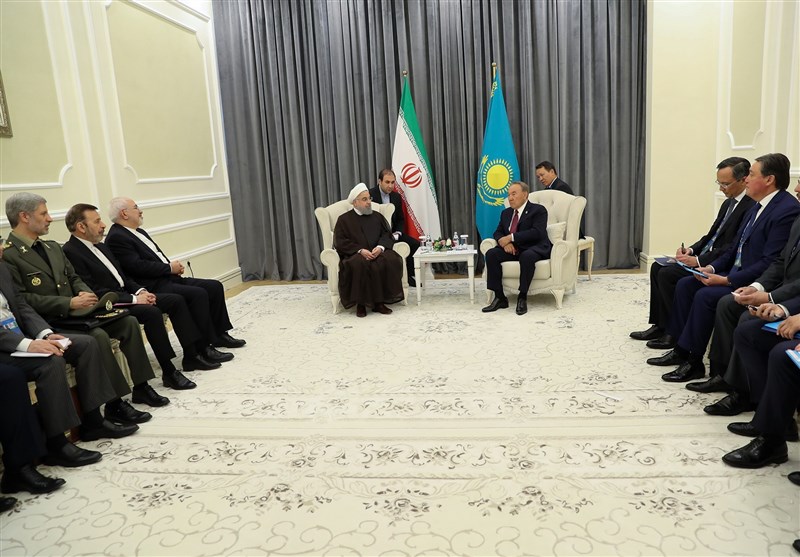 TEHRAN (Tasnim) – The presidents of Iran and Kazakhstan weighed plans for trade exchanges between the two countries using their own currencies, namely rial and tenge.
In a meeting on the sidelines of the 5th Caspian summit in the Kazakh city of Aktau on Sunday, Iranian President Hassan Rouhani and his Kazakh counterpart Nursultan Nazarbayev discussed a range of issues, from the efforts for peace in Syria to using the two countries' currencies in bilateral trade.
In the meeting, the Iranian president said Tehran and Astana share views on various issues and have common interests in the region.
Hailing Kazakhstan's partnership various international initiatives, such as hosting the Syria peace talks, Rouhani voiced Iran's willingness to enhance ties with the Central Asian nation.
He further highlighted the opportunities for joint investment by Iran and Kazakhstan and export of reciprocal services, saying the two countries could complement each other in the transportation industry.
"Kazakhstan can be connected to southern (international) waters through Iran and Iran can also reach China via Kazakhstan," he said.
Rouhani also said that using the national currencies would help Iran and Kazakhstan boost trade ties and strengthen relations.
Nazarbayev, for his part, lauded the growth in Tehran-Astana trade ties in recent years, expressing Kazakhstan's eagerness to broaden its relations with Iran.
He also voiced his country's resolve to settle the banking problems with Iran and use the national currencies in trade transactions.
The Iranian president arrived in Kazakhstan on Sunday for a Caspian summit that concluded with a long-awaited convention on the legal regime of the body of water.
The five littoral states - Iran, Russia, Turkmenistan, Kazakhstan and the Republic of Azerbaijan- also signed six other agreements in the summit.