President Rouhani: Iran to Defeat Enemies with Unity, Steadfastness
TEHRAN (Tasnim) – The Iranian nation will definitely emerge victorious in the face of enemies through unity and steadfastness, President Hassan Rouhani said Saturday, saying it would be an "unforgivable mistake" to leave his administration alone.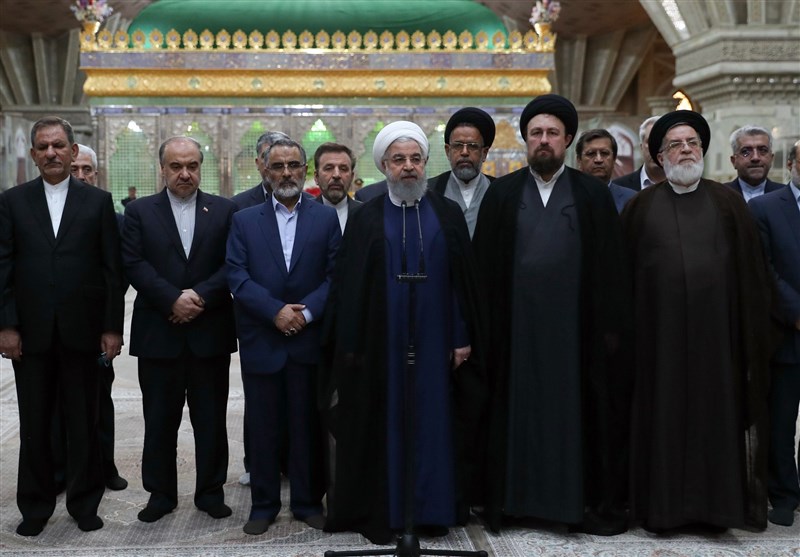 "We have no doubt about this nation's ultimate victory against the enemy," Rouhani said in a ceremony attended by his cabinet members, held at the mausoleum of the late founder of the Islamic Republic, Imam Khomeini, south of Tehran.
"With unity and solidarity, we could thwart the Zionist lobbies' attempts in the US Senate and the House of Representatives as well as American plots in the United Nations Security Council," the president said at the ceremony, held at the beginning of the Government Week as a gesture of allegiance to Imam Khomeini's ideals.
He further said that the administration is concerned about people's problems and sufferings and is making every effort to alleviate them.
It is not the time to put the burden on others, the president said of the country's internal problems, saying, "Leaving the administration alone… would be an unforgivable mistake."
"It is our collective duty to stand against the plots, and we can well overcome these problems through unity," he concluded.
In remarks earlier this month, Leader of the Islamic Revolution Ayatollah Seyed Ali Khamenei proposed solutions to the economic problems in Iran, saying the internal problems are not wholly caused by foreign sanctions, but a series of internal issues and mismanagement are also to blame.
Making a reference to the hike in gold coin prices and devaluation of the Iranian money in recent weeks, the Leader said some of the problems are caused by imprudence and mismanagement, irrespective of sanctions.
Reiterating the need for serious fight against corruption, the Leader also stressed that the Islamic Republic takes a tough line against corruption without any reservation.