Boy Refuses Mother's Hugs after 4 Month of Ice Detention (+Video)
TEHRAN (Tasnim) - A heartbreaking video by ACLU shows an undocumented immigrant mother trying to fruitlessly get a long-awaited hug from her son after their family was reunited after four months, but the boy keeps refusing to go to her.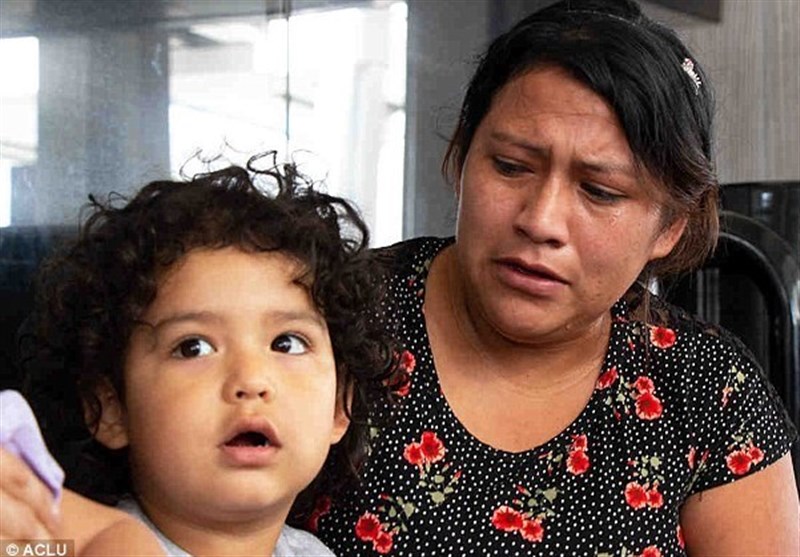 The footage from an American Civil Liberties Union video that was recently posted on the human rights advocacy group's Instagram account shows the sad moment when Mrs Reyes-Mejia breaks down in tears while she tries to hug her three-year-old son, who keeps putting up a fight.
'My love, I am your mommy, papi. I am your mommy,' she said before Sammy, as the boy is named in the ACLU report to protect his identity, manages to get out of his mother's embrace when the family of four was reunited at George Bush International Airport in Houston on July 14 after they had been detained and separated by the United States Customs and Immigration Enforcement.
As the little boy crawls away, the distraught mother questions her husband, Ever, as to why their son was rejecting her on the first day the family was being reunited, Daily Mail reported.
'Ever, what's wrong with my son?' Mrs Reyes-Mejia says amidst tears before her husband, who is seen hugging his infant daughter, helps her up.
The sad mom then walks after a crawling Sammy, telling him, 'papi, I came for you my love. What happened? Papi come with me. I came for you. My son is traumatized, Ever.'
Eventually, Sammy relented and hugged his mother for the first time since he and his father left Honduras in April 2018. They fled the on-going violence to enter the United States to seek asylum.
The US government separated more than 2,500 children from their parents this year as the Trump administration adopted a "zero-tolerance" policy requiring anyone who crossed the border illegally to be prosecuted. That resulted in parents who had to go to federal court to face criminal misdemeanor charges of illegal entry to be separated from their children, often for months.
A federal judge overseeing a lawsuit against the government gave authorities until July 26 to reunite all families, although over 300 parents who were deported to their home countries have yet to be reunited with their children.
According to the ACLU, as of August 23, 528 immigrant children still remain in government custody.