Iranian Nation Has Forced US to Retreat: Leader
September, 09, 2018 - 14:58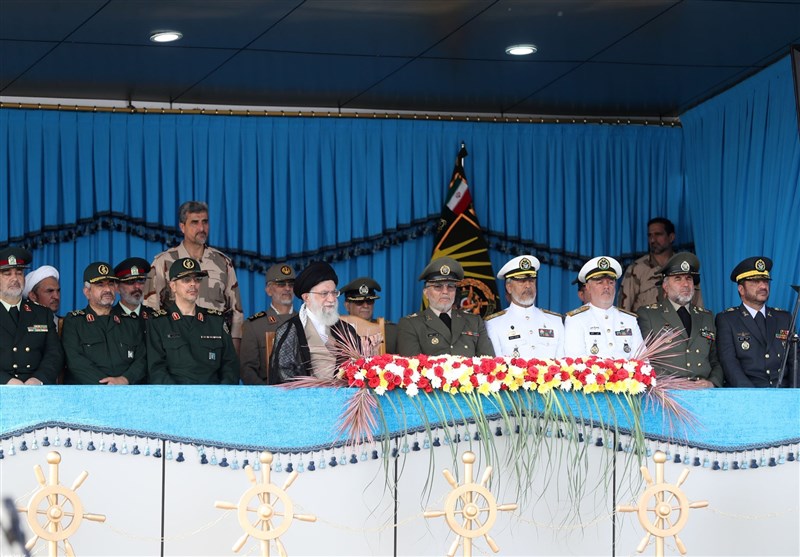 TEHRAN (Tasnim) – Leader of the Islamic Revolution Ayatollah Seyed Ali Khamenei highlighted the US government's failed policy on Iran and said the country's resistance against hegemonic powers, like the US, has forced them to retreat.
Addressing a graduation ceremony of the Iranian Navy cadets in the northern city of Noshahr on Sunday, Ayatollah Khamenei deplored the "evil" policy of the global arrogance to create insecurity and instability in the Middle East and praised Iran's resistance against such a policy.
"By resisting against the US, the Islamic Republic and the Iranian nation have demonstrated that if a nation does not fear the frown and threats of the bullies and relies on its capabilities, it would bring about the superpowers' retreat and defeat," the Leader stated.
"The global arrogance led by the cruel and oppressive America see their interests in civil wars and disastrous expansion of terrorist activities and regional conflicts and, unfortunately, some regional countries help them," Ayatollah Khamenei said.
However, the Islamic Republic's powerful resistance has caused the US goals in the region to fail, the Leader said, adding "The world political and intelligent analysts are astonished and acknowledge the fact that Iran, by relying on God and counting on national power, has defeated the world powers in the region."
The Leader described developments in Syria, Iraq and Lebanon as the examples of the US conspiracies' failure in the region and said they are signs of God's power and the realization of God's promises that if you assist God, God will help you succeed and persist.
In recent years, the Middle East has been plagued with Takfiri terrorist groups like Daesh (ISIL or ISIS), which are believed to have been created and supported by the West and some regional Arab countries.
The terrorist groups, which claim to be Islamic but whose actions are anything but, have been committing heinous crimes not only against non-Muslims but mostly against Muslims in the region.
Iraq and Syria have been among the countries gripped by terrorism.
Iran, a close ally of the two countries, has supported their legitimate governments in their campaign against foreign-backed militancy and terrorism.