Hurricane Florence Decreases Speed to Category 1 but Still Powerful (+Vidoe)
September, 14, 2018 - 14:48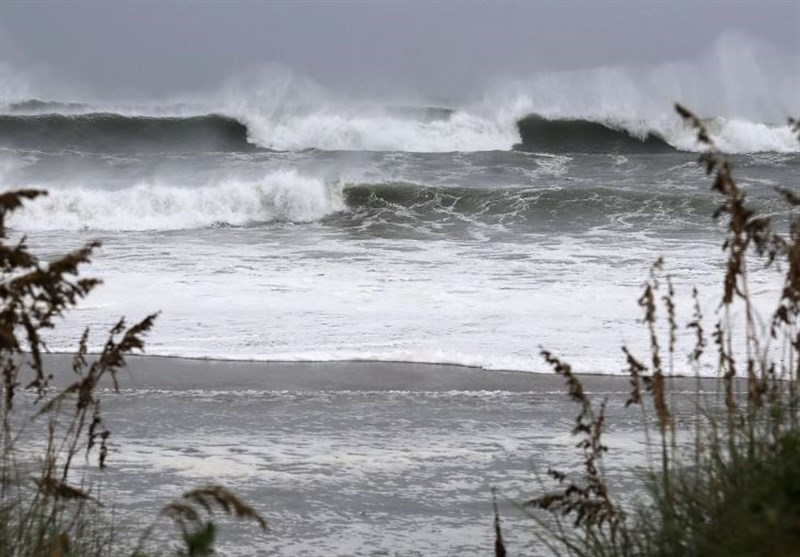 TEHRAN (Tasnim) - Hurricane Florence was downgraded to a Category 1 hurricane after it decreased speed late Thursday but meteorologists warn that it will still do considerable damage.
One forecaster says the harm done by a 90 mph wind would be comparable to that suffered from a 110 mph wind.
"I would not read too much into the categories," said Howard Silverman, a meteorologist with the National Weather Service.
Hurricane categories only consider the wind speed, Silverman said, and "a hurricane is so much more than just the wind. You have the rain, you have the storm surge."
The hurricane, which has yet to officially made landfall, has already inundated North Carolina coastal streets with ocean water and left tens of thousands without power, and forecasters say conditions will only worsen as the hulking storm slogs inland, Baltimore Sun reported.
Screaming winds bent trees toward the ground and raindrops flew sideways as Florence's leading edge whipped the coast Thursday to begin an onslaught that could last for days, leaving a wide area under water from both heavy downpours and rising seas.
The storm's intensity diminished as it neared land, with winds dropping to around 90 mph by nightfall. But that, combined with the storm's slowing forward movement and heavy rains, had North Carolina Gov. Roy Cooper warning of an impending disaster.
More than 80,000 people were already without power as the storm began buffeting the coast, and more than 12,000 were in shelters. An additional 400 people were in shelters in Virginia, where forecasts were less dire.
The US officials said some 1.7 million people in the Carolinas and Virginia were warned to evacuate, but it's unclear how many did. The homes of about 10 million were under watches or warnings for the hurricane or tropical storm conditions.
As of 2 a.m., Florence was centered about 35 miles east of Wilmington, N.C. Its forward movement increased slightly to 6 mph. Hurricane-force winds extended 90 miles from its center, and tropical-storm-force winds up to 195 miles.
A buoy off the North Carolina coast recorded waves nearly 30 feet high as Florence churned toward shore.
Forecasters said conditions will deteriorate as the storm pushes ashore early Friday near the North Carolina-South Carolina line and makes its way slowly inland. Its surge could cover all but a sliver of the Carolina coast under as much as 11 feet of ocean water, and days of downpours could unload more than 3 feet of rain, touching off severe flooding.
Once a Category 4 hurricane with winds of 140 mph, the hurricane was downgraded to a Category 1 on Thursday night.
Forecasters said that given the storm's size and sluggish track, it could cause epic damage akin to what the Houston area saw during Hurricane Harvey just over a year ago, with floodwaters swamping homes and businesses and washing over industrial waste sites and hog-manure ponds.
The hurricane was seen as a major test for the Federal Emergency Management Agency, which was heavily criticized as slow and unprepared for Hurricane Maria in Puerto Rico last year.
The effects of the storm will likely take their time getting to Central Maryland.
Friday's forecast from the National Weather Service calls for patchy drizzle with scattered showers with a low around 70 degrees and northeast wind around 9 mph.
The chance of precipitation is 20 percent Saturday and 40 percent Sunday. Monday should bring a 60 percent chance of rain with a possible thunderstorm.