IRGC General: US Bases in Region Easy Targets for Iranian Missiles
TEHRAN (Tasnim) – US military bases and aircraft carriers around Iran are soft targets for the precision missiles in the IRGC's possession, Commander of the Islamic Revolution Guards Corps Aerospace Force Brigadier General Amir Ali Hajizadeh said.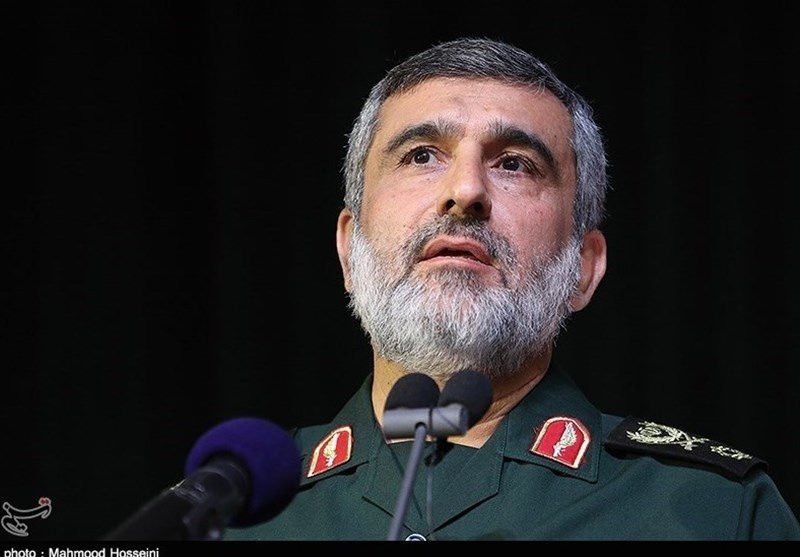 Speaking at a TV show on Wednesday night, General Hajizadeh said the IRGC has focused on improving the precision of its missiles since ten years ago, stressing that Iran owes the high precision of its projectiles to Leader of the Islamic Revolution Ayatollah Seyed Ali Khamenei's guidance.
He also said that all US military bases in the region are within the range of Iran's missiles, saying the Al Udeid Air Base in Qatar and the Al Dhafra Air Base in the United Arab Emirates are at a distance of below 300 kilometers from Iran and the Kandahar base used by Americans is only 400 km away from Iran.
Those bases are soft targets for Iran and will be hit if the enemy makes a wrong move, he added.
The general also pointed to Iran's missile dominance over the sea, saying the IRGC has acquired naval missiles with a range of 700 kilometers that could be used over the Sea of Oman.
"US aircraft carriers (in the region) are like shooting targets for us," General Hajizadeh added.
Iranian officials have repeatedly underscored that the country will not hesitate to strengthen its military capabilities, including its missile power, which are entirely meant for defense, and that Iran's defense capabilities will be never subject to negotiations.
Back in February 2018, Ayatollah Khamenei called for efforts to maintain and boost Iran's defense capabilities, hitting back at the enemies for disputing the country's missile program.
"Without a moment of hesitation, the country must move to acquire whatever is necessary for defense, even if the whole world is opposed to it," Ayatollah Khamenei said on February 18.