Ayatollah Khamenei: Iran to Foil All Hostile Plots
December, 12, 2018 - 14:48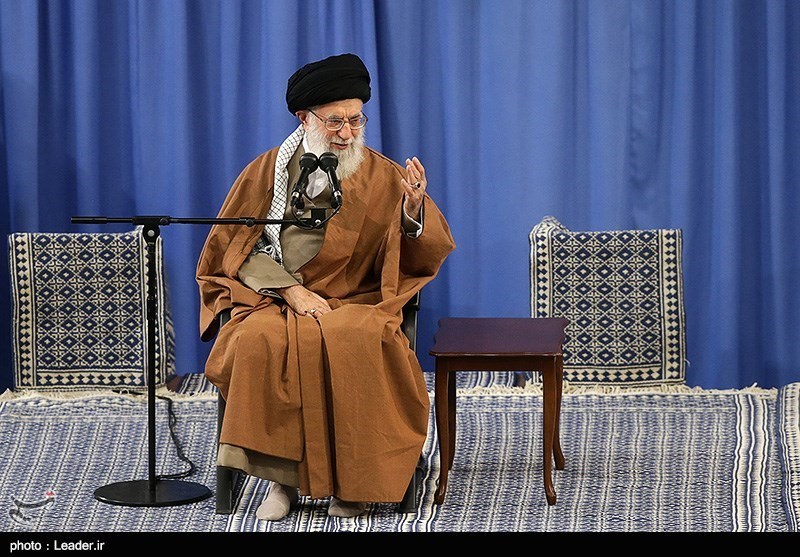 TEHRAN (Tasnim) – Leader of the Islamic Revolution Ayatollah Seyed Ali Khamenei said the stormy situation in the global politics has now reached Europe and engulfed France but Iran is on a "safe ship" and will thwart all hostile plots.
"Today, in this stormy world whose storm has reached Europe and France as well, the Iranian nation is aboard the safe ship of affections of Ahl al-Bayt -peace be upon them- thanks to Islam, and victory belongs to this (Iranian) nation," Ayatollah Khamenei said in a gathering of families of Iranian martyrs in Tehran on Wednesday.
Highlighting the Iranian nation's resolve in standing against the US plots over the past decades, the Leader said Washington has been trying to regain control of Iran like the pre-Revolution era and create the same situation that it has established in certain weak regional countries who have been derided as cows milked by the US.
Iran's archenemies are mired in moral and political corruption, Ayatollah Khamenei said, adding, "If you want to see the real image of the US, look at the current US president and government officials, as these people have now revealed the usual ugly and despicable face of the US politicians overtly and brazenly."
Pointing to the uncovered plots that Americans have hatched over the past two years to harm Iran, such as imposing sanctions and assisting Iran's foes, the Leader said the US objective was to create bipolarity and division in Iran through sanctions and anti-security measures.
Dismissing comments by US officials that the Islamic Republic would not see its 40th anniversary, Ayatollah Khamenei said the Iranian nation will celebrate the 40th anniversary of victory of the Revolution this year more magnificently than before.
The Leader then cautioned Iranian officials against the unending US plots, saying the Zionists and the regional reactionaries aid and abet the US hostile ploys against the Iranian nation.
"Nonetheless, we are stronger than them (enemies), because they have not been able to do a damn thing against the Islamic Republic so far and won't be able to from now on, either," the Leader added.
Ayatollah Khamenei further took a swipe at the Saudi regime for forming a friendship with the enemies of Islam and for its crimes in Yemen, saying Saudis had plans to conquer Yemen within days or weeks but have failed to gain anything for around four years.
"The more time passes by, the harder will be the blow they (Saudis) would receive (in Yemen)," Ayatollah Khamenei stressed.
The Al Saud has adopted a stupid policy towards Yemen and Bahrain, Ayatollah Khamenei deplored.