Britain's Theresa May Survives 'No-Confidence' Vote
TEHRAN (Tasnim) - British Prime Minister Theresa May comfortably survived a "no-confidence" vote in her government Wednesday following a stinging defeat in Parliament over her Brexit deal to leave the European Union. The result means she stays in power for now. 
January, 17, 2019 - 00:24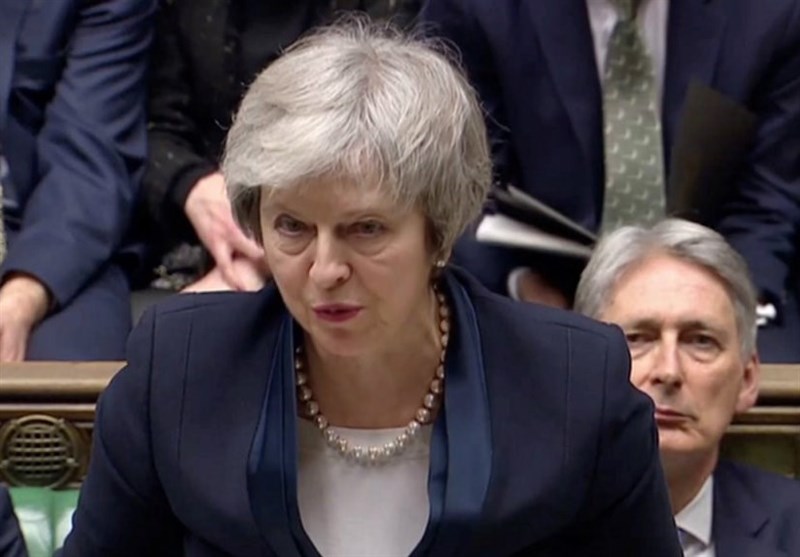 May won the attempt to oust her from power by 325 to 306 votes.
The motion was called by opposition parties attempting to break a deadlock in Parliament over the deal May negotiated with the EU to leave the bloc. Defeat would have likely led to her resignation and the triggering of a general election within weeks.
She now has until Monday to devise a new Brexit plan acceptable to lawmakers. However, her opponents have not ruled out calling further no-confidence votes, USA Today reported.
In a short statement in the House of Commons following the vote, May said she would "continue to work to deliver on the solemn promise to the people of this country to deliver on the result of the referendum and leave the European Union."
She added: "We must find solutions that are negotiable and command support."
May lost Tuesday's vote on the deal she agreed with the EU to leave the bloc by 432-202. But while the defeat was widely expected, the scale of the loss was not, and it was this – the largest parliamentary defeat of any British prime minister in history – that led to the calling of Wednesday's vote by opposition Labour Party leader Jeremy Corbyn.
He referred to her government Wednesday as a "zombie" administration.
Still, May stood a good chance of surviving the vote because even though many members of her own ruling Conservative Party voted against the exit deal on the grounds they believe it keeps the U.K. substantially tethered to the bloc, they still like and back her as leader. She survived another confidence vote late last year.
For many British lawmakers, the most contentious part of May's EU deal is the Irish "backstop," a largely unresolved issue to do with the land border between Northern Ireland (part of Britain) and Ireland (part of the EU). Years of peace between Northern Ireland's Irish Catholic community and its British Protestant one have been ensured by the free trade and travel across that border that EU membership allows.
All concerned want to avoid a return to a "hard border" between Northern Ireland and Ireland after Brexit. The "backstop" is envisioned as a temporary measure to allow the border to remain open in the event that the U.K. and EU fail to reach a free trade deal.
Critics worry it could indefinitely maroon Northern Ireland outside the U.K., in the EU.
Meanwhile, both May and her counterparts in the EU have ruled out any major renegotiations on the deal that has already been signed off on.
Michel Barnier, the EU's top Brexit negotiator, said Wednesday that he is stepping up preparations for a chaotic "no-deal" departure of Britain from the 28-nation bloc.
"Whatever happens, ratification of the withdrawal agreement (May's deal) is necessary. It is a precondition," he said.
Yet Barnier also appeared to leave the door open a little, saying there were "possible options" for further talks. German Chancellor Angela Merkel said "we still have time to negotiate" on Brexit, but that the next move belonged to May.
So far, May has not indicated what he Plan B might involve.
In her statement Wednesday night she said she intended to hold "a series of meetings between senior parliamentarians and representatives of the government over the coming days" but little else to calm the nerves of lawmakers, or the country.
"If we cannot have a general election – the British public must have the final say – with the option to stay in the EU," London Mayor Sadiq Khan tweeted after the vote, referring to the possibility of a second national referendum on leaving the bloc.
Khan is a Labour member and deeply opposes leaving the EU.
However, one scenario May is trying to avoid is leaving the EU without a deal. And if nothing gets agreed to before March 29, that is precisely what will take place.
The majority of analysts and political scientists predict that if that happens, it will be troubling for Britain's economy. The Bank of England warned it could cause the deepest recession in Britain in nearly 100 years. A survey by the American Chamber of Commerce estimates it could potentially threaten 1.4 million jobs and $593 billion in direct investment from U.S. companies.
Three million EU nationals who live in Britain under EU "freedom of movement" laws and 1.3 million Britons who do the same in other EU nations would effectively become illegal overnight. Decades-old EU legislation covering health, travel, security, trade and more would evaporate.
But Britain would still get what it voted for: a departure from the EU.
Only May's resignation, a general election or a second referendum on Brexit – all still possible if unlikely at this point – would stand a chance of reversing Brexit.
"The time for little games is now over," Germany's foreign minister Heiko Maas said Wednesday, speaking on Deutschlandfunk radio.
Britain and the EU "need a solution" and "we need it quickly," he added.