Iran to Continue Supporting Lebanese Govt., Nation: Zarif
TEHRAN (Tasnim) – Foreign Minister Mohammad Javad Zarif pledged Iran's continued support for the Lebanese nation and state, stressing that Tehran is ready to cooperate with the new government in various fields.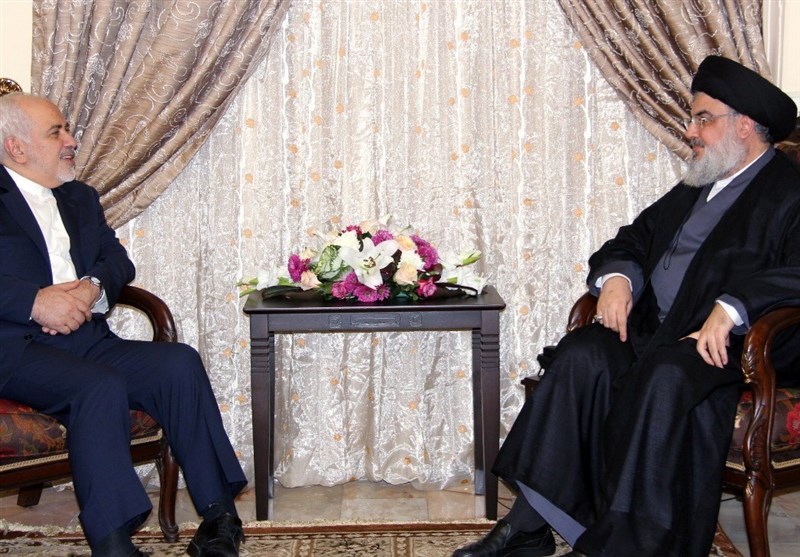 Iran would "stand firm by the Lebanese state, the Lebanese people and the Lebanese resistance," Zarif said on Monday in a meeting with Secretary General of the Lebanese Hezbollah resistance movement Seyed Hassan Nasrallah in Beirut, Lebanese media reported.
He further emphasized Tehran's readiness to offer "every type of aid and cooperation in various fields".
Nasrallah, in turn, thanked Zarif for Iran's support, saying, "Lebanon, Palestine, and the resistance movements (will continue their fight) against both Zionism and extremism ... despite the conspiracies and pressure (Iran) has been subjected to as a result (of this support)."
Zarif's meeting with Nasrallah came before his sit-down with Prime Minister Saad Hariri. The Iranian official also met with President Michel Aoun, Speaker Nabih Berri and Foreign Minister Gebran Bassil earlier in the day.
During his meetings with the Lebanese officials, Zarif reiterated Iran's readiness to help Lebanon in various sectors, including support for the military.
The Lebanese officials raised the issue of the Syrian refugees in Lebanon and spoke of the need for Iran to help ensure that they return to their home country.
The Iranian top diplomat's visit came as Lebanon recently formed a new national unity government, ending nearly nine months of political wrangling.
Saad al-Hariri apologized to the people of Lebanon for the time it had taken to form the government and said that bold moves were needed without delay to address chronic problems facing the heavily indebted state.
The government of Hariri, who has Western backing, includes most parties, including Hezbollah, which emerged stronger from the parliamentary election last May thanks to gains by its allies. Hezbollah chose the new health minister.