IRGC Copters Save Hundreds Trapped by Flood West of Iran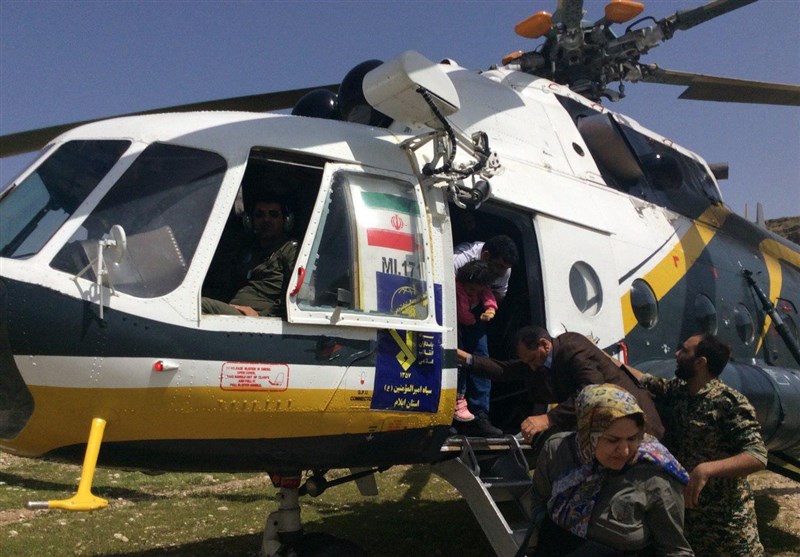 TEHRAN (Tasnim) – The Islamic Revolution Guards Corps (IRGC) Aerospace Force rescued around 200 people trapped by flood waters in the rural areas of Iran's western province of Ilam.
In a major rescue operation displaying the preparedness of Iranian armed forces for disaster response, the IRGC Aerospace Force rescued 200 villagers trapped in flood-stricken areas in Ilam, ferrying them to safe zones.
The IRGC Aerospace Force helicopters flew 12 sorties across kilometers of flooded lands in Dareshahr and Majin regions of Ilam to pluck the people.
In the meantime, an Ilyushin Il-76 airlifter of the force freighted 25 tons of foodstuff and heating equipment to Ilam, which was then distributed across the flood-hit areas by choppers.
After torrential rains in northern, western and southwestern Iran, the military forces mobilized efforts to help people trapped in the flood-affected areas and evacuate residents in the regions with an emergency situation.
Record spring rainfall that has battered Iran in the past weeks caused serious flooding in many areas, mainly the provinces of Golestan, Lorestan, Khuzestan, Fars and Ilam, forcing thousands to leave their homes.
While residents in some western areas are still in need of relief aid, the Army Ground Force, the IRGC, and Basij have deployed forces, heavy military machinery, aircraft and boats to the disaster zones.
The death toll in the disaster has reached 67.