Iran's Top General Warns Harsh Response to US Forces in West Asia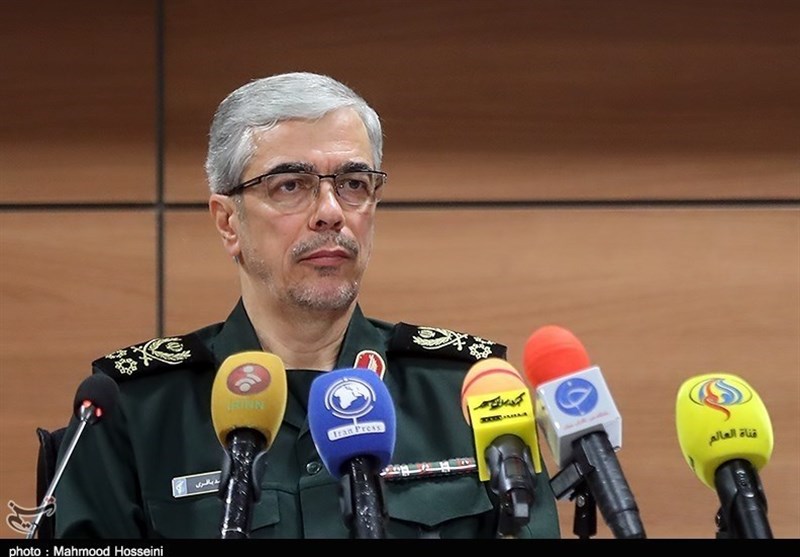 TEHRAN (Tasnim) – Chief of Staff of the Iranian Armed Forces Major General Mohammad Hossein Baqeri warned that the Islamic Republic would harshly respond to any wrong move by the US forces in West Asia, which Iran, in a reciprocal move, designated as terrorists.
"That the IRGC… becomes subject to the wrath of criminal America, which desperately and from a position of weakness calls this legal, revolutionary and popular institution terrorist, should make us glad," Major General Baqeri said in a speech on Tuesday night.
This is because the US move indicates that the IRGC has taken steps in the path of realizing the ideals of the Islamic Revolution and supporting the deprived and the oppressed over the past 40 years, he added.
"Indeed, the holy and powerful Establishment of the Islamic Republic of Iran will not keep silent about this decision, and we would reciprocally regard the US military forces in the South West Asia region, CENTCOM, as terrorists, and if they take any wrong move, we will deal with then decisively," the top general went on to say.
The remarks came after the Trump administration on Monday labeled IRGC as a "terrorist group" at the behest of Israeli Prime Minister Benjamin Netanyahu.
Israelis headed to the polls on Tuesday to elect the 120 members of the 21st Knesset (parliament). On the eve of the vote, Netanyahu took credit for Trump's decision to blacklist IRGC.
"Thank you, my dear friend, President Donald Trump," Netanyahu tweeted in Hebrew, "for answering another one of my important requests."
On Monday, Iran's Supreme National Security Council, in turn, designated US forces in West Asia, known as the United States Central Command (CENTCOM), as a terrorist organization.