Iranian President Urges Massive Turnout in Quds Days Rallies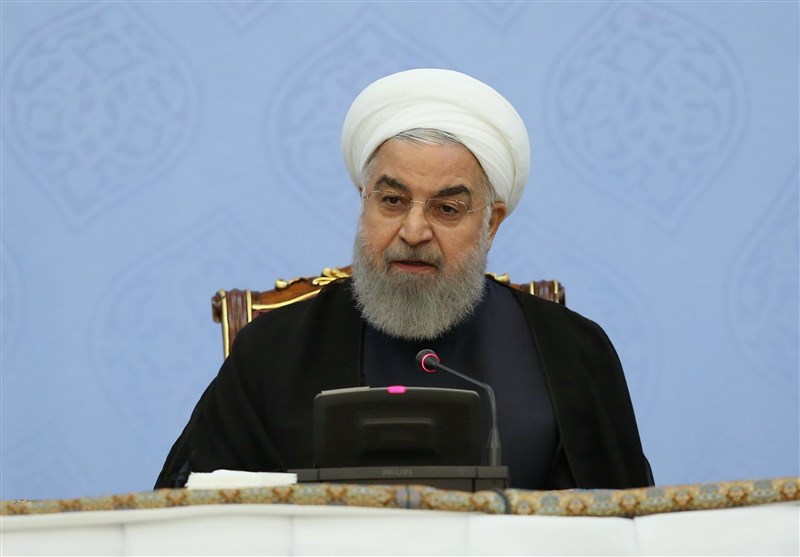 TEHRAN (Tasnim) – President of Iran Hassan Rouhani called for massive presence of people in the International Quds Day's demonstrations to defy the US-drafted 'deal of the century', which he denounced as the 'bankruptcy of the century'.
Addressing a cabinet session on Wednesday, Rouhani called on people to attend the upcoming rallies on the Quds Day en masse, stressing that the Iranian nation will never leave Quds and the oppressed alone.
He also denounced the so-called deal of the century as the "bankruptcy of century", warning that such a plot is not threatening the Palestinian nation alone, but spells sedition against the entire region.
"The Iranian nation has always helped other nations, such as the assistance we provided for the oppressed nations in Syria, Palestine, Lebanon, Iraq, Afghanistan, and Yemen," the president added.
Highlighting the history of peaceful coexistence among monotheists in Palestine, Rouhani said all Muslims are brothers of Palestinians and would not stay silent when such a great nation is being displaced.
The International Quds Day is an annual event during which demonstrators express their solidarity with the Palestinian people and opposition to the occupation of the Palestinian territories by the Zionist regime of Israel.
The day is seen as the legacy of the late founder of the Islamic Republic of Iran, Imam Khomeini, who officially declared the last Friday of the holy month of Ramadan as International Quds Day back in 1979.
Elsewhere in his comments, Rouhani referred to US pressures on Iran and said the Iranian nation's resistance has forced the enemies to make paradoxical comments. He stressed that Iran cares about practical measures, not words.
The president also said that the "door will not be closed" on the adversaries should they abandon the policy of persecution of the Iranian nation, quit the cruel sanctions, start honoring their commitments, and return to the negotiating table they have left.
"If you (the enemies) take a different path in deed, abandon cruelty in executive decisions, and return to justice and law, the Iranian nation will leave the way open for you," he concluded.