Being Unafraid of Powers, Secret to Survival of A Nation: IRGC Commander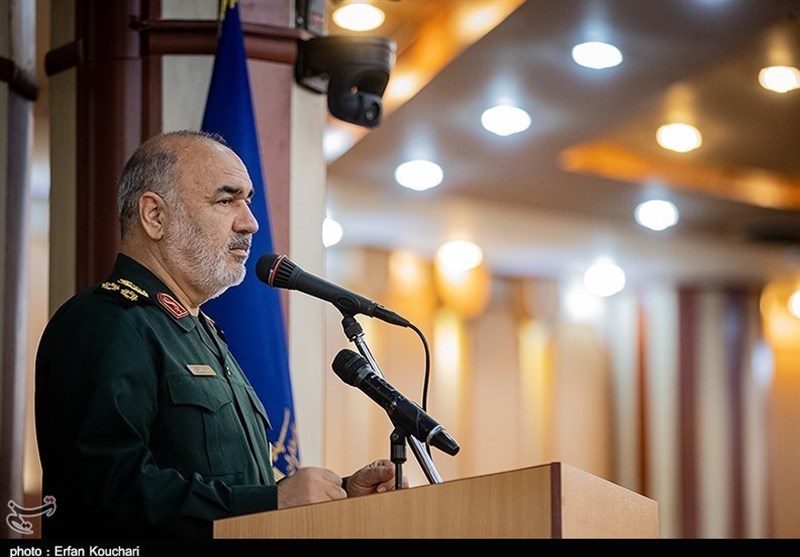 TEHRAN (Tasnim) – Islamic Revolution Guards Corps (IRGC) Commander Brigadier General Hossein Salami highlighted the Iranian Armed Forces' braveries and self-sacrifices and said being fearless in teh face of world powers can help a nation to survive.
The current power, dignity, and security of Iran have been achieved thanks to the braveries and sacrifices of the brave men who endangered their lives in order to prevent harms to the nation, General Salami said in a speech on Sunday evening.
Their families also played a prominent role in the sacrifices of these great people, the top commander noted.
Being unafraid of world powers is the secret to the survival of a nation and society, he said, adding that the Islamic Republic's powerful resistance against world powers has been possible thanks to the country's martyrs.
The remarks came against the backdrop of increased tensions between Iran and the US with Washington imposing new sanctions against the Islamic Republic.
The US has ratcheted up pressure on Iran since last year after withdrawing from the 2015 nuclear deal, known as the Joint Comprehensive Plan of Action (JCPOA).
Since then, the administration of US President Donald Trump is trying to reduce Iran's oil exports to "zero," and has sent an aircraft carrier strike group, a bomber squad, an amphibious assault ship, and a Patriot missile battery to the Middle East to try to stack up pressure on Tehran.
Iranian officials, however, have dismissed such moves as psychological warfare, saying the country has its own ways of circumventing the American bans and selling crude oil.