Zarif: Door to Diplomacy Open if US Lifts Sanctions on Iran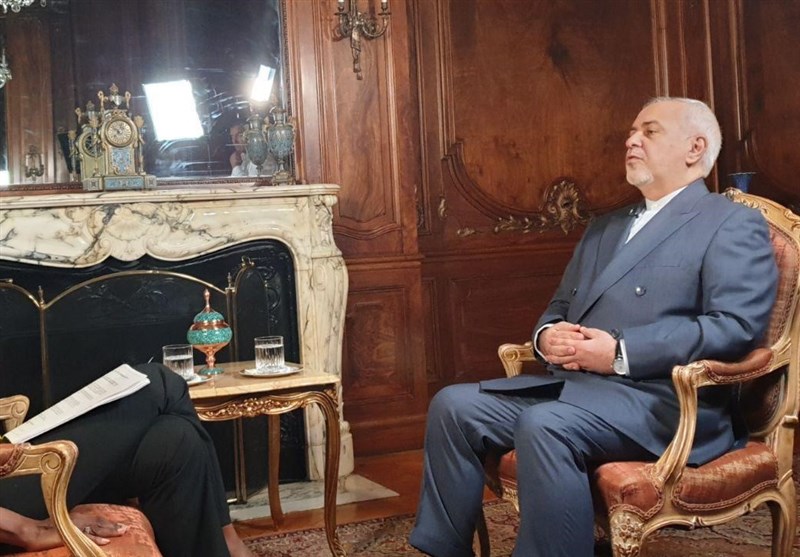 TEHRAN (Tasnim) – Iran is not seeking a war with the US, Foreign Minister Mohammad Javad Zarif said, stressing that Washington must first lift the sanctions on Tehran to make way for diplomacy.
In an interview with NBC Nightly News' Lester Holt on Monday, Zarif said the door is "wide open" to diplomacy if US President Donald Trump removes the sanctions he has imposed on Iran since 2017.
"Once those sanctions are lifted, then ... the room for negotiation is wide open," Zarif said during a visit to New York for a UN conference.
The foreign minister also noted that it was the US, not Iran, that had undermined diplomacy by walking away from the 2015 nuclear agreement, known as the Joint Comprehensive Plan of Action (JCPOA).
"It is the United States that left the bargaining table. And they're always welcome to return," Zarif said.
Zarif stressed that Iran had no interest in securing a nuclear arsenal, though it could have built the bomb if it wanted to.
"Had we been interested in developing nuclear weapons, we would have been able to do it a long time ago," Zarif said.
The top diplomat said he did not think that Iran and the US were on the verge of a war, adding that neither his government nor Trump was seeking armed conflict.
"I do not believe that President Trump wants war. But I believe that people are around him who wouldn't mind," Zarif said.
"But I don't think they'll succeed because at the end of the day, I think prudence will prevail. People know that Iran is a big, proud country. And we will not take a military attack lightly," he underscored.
Zarif further said Iran has acted with restraint and waited for about a year before it started to reduce certain commitments to the JCPOA, which he said was allowed under the terms of the deal. But he said the Trump administration had abruptly pulled out of a deal that Washington had negotiated and signed.
"I think the United States is playing with fire," he warned.
Asked if there was a face-saving offer that Iran would accept from Washington, Zarif said, "I think in any negotiations, you need to find a win-win situation. Otherwise, you'll end up with a lose-lose situation."
Iran and the Group 5+1 (Russia, China, US, Britain, France, and Germany) on July 14, 2015, reached a conclusion over the text of the 2015 nuclear deal.
The accord took effect in January 2016 and was supposed to terminate all nuclear-related sanctions against Iran all at once, but its implementation was hampered by the US policies and its eventual withdrawal from the deal.
On May 8, 2018, Trump pulled his country out of the nuclear accord.
Following the US withdrawal, Iran and the remaining parties launched talks to save the accord.
However, the EU's failure of ensure Iran's economic interests forced Tehran to stop honoring certain commitments under JCPOA in May 2019, including a rise in the stockpile of enriched uranium.
Iran maintains that the new measures are not designed to harm the JCPOA but to save the accord by creating a balance in the commitments.