Army Commander Lauds Iranian Air Defense Systems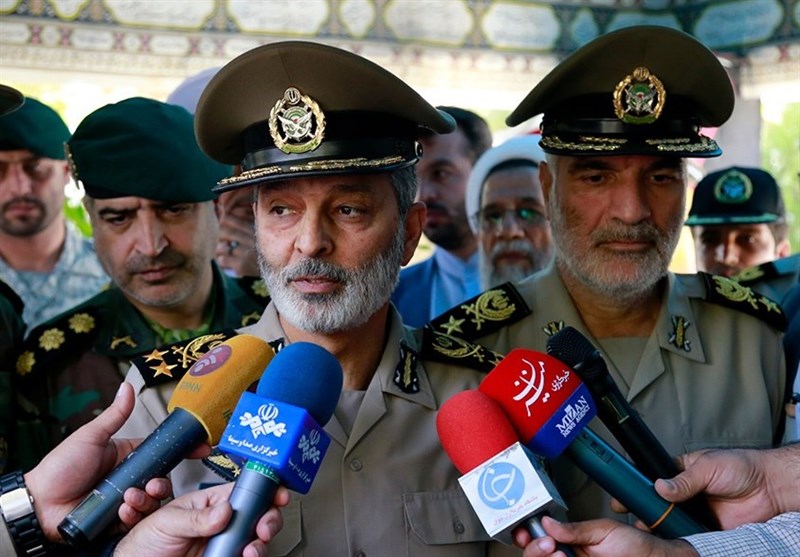 TEHRAN (Tasnim) – Iran's Army Commander Major General Abdolrahim Mousavi praised recent defense achievements and said the Islamic Republic has managed to manufacture "strategic" weapons that are commensurate with threats posed against the country.
In a speech at a military exhibition in Tehran on Monday, which showcased a domestically made long-range air defense missile system dubbed "Bavar-373", Major General Mousavi hailed "the capabilities and advances of the defense industry".
"The capability and endeavor of young scientists in the Defense Ministry is much higher than what we have seen or employed in operational areas," he added.
"To build the Bavar 373, which was the latest product of the Defense Ministry to date, they (the military experts) monitored all of the air threats, and based on them, they produced a strategic powerful weapon and delivered it to the Army…," the top commander noted.
During a ceremony in Tehran on Thursday, the state-of-the-art air defense missile system "Bavar-373" was unveiled.
The long-range air defense system is capable of detecting up to 100 targets, tracking 60 of them, and engage with six concurrently.
A distinguishing feature of Bavar-373 is its vertical launching system with square launchers, mostly used for air defense on warships.
Bavar-373 uses a long-range, phased array fire-control radar, dubbed Me'raj-4.
Iranian military experts and technicians have in recent years made great headways in manufacturing a broad range of indigenous equipment, making the armed forces self-sufficient in the arms sphere.
Iranian officials have repeatedly underscored that the country will not hesitate to strengthen its military capabilities, including its missile power, which are entirely meant for defense, and that Iran's defense capabilities will be never subject to negotiations.
Back in February 2018, the Leader of the Islamic Revolution called for efforts to maintain and boost Iran's defense capabilities, hitting back at the enemies for disputing the country's missile program.
"Without a moment of hesitation, the country must move to acquire whatever is necessary for defense, even if the whole world is opposed to it," Ayatollah Khamenei said at the time.