President: Key to Thaw in Iran-US Ties in Washington's Hands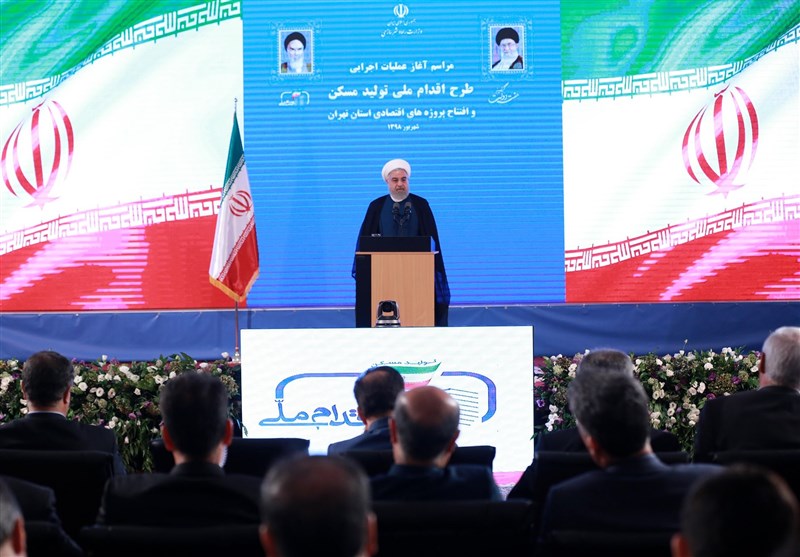 TEHRAN (Tasnim) – Iranian President Hassan Rouhani said it is up to the US government to mend ties with Iran by changing course and lifting all of the sanctions.
"In the relations between Iran and the US, we will not witness any positive development unless the US abandons the sanctions and corrects the wrong path it has chosen," Rouhani said in an address to a meeting held in Tehran on Tuesday to launch a major housing project.
"The key to positive developments is in Washington's hands," he underlined.
The president also reiterated that Iran will never make nuclear weapons, regardless of what foreigners may think or claim.
Iran's military doctrine is based upon conventional weapons, as the Islamic Republic has never pursued and will never pursue weapons of mass destruction, be it nuclear, chemical or biological weapons, he underscored.
Should the US remove all sanctions against Iran and respects the Iranian nation, the conditions will change, Rouhani stated.
He made it clear that Iran will fully honor its commitments under the Joint Comprehensive Plan of Action (JCPOA) once the other parties fulfill theirs.
"We do not look for tensions with the world, rather, we favor security in the region and the world and cooperation with all friendly countries, and are prepared to abide by international regulations within the framework of national interests and security," he emphasized.
In May 2018, US President Donald Trump pulled his country out of the JCPOA and re-imposed tough sanctions on Iran.
While Trump has repeatedly expressed willingness to meet the Iranian leaders without any preconditions, Leader of the Islamic Revolution Ayatollah Seyed Ali Khamenei has roundly dismissed the idea of negotiations with the US, saying dialogue with a bullying regime that uses talks as a tool for pursuing its hostile policies is forbidden and would be detrimental to Iran.