Iran's Zarif Urges Turkey to Respect Syria's Territorial Integrity
October, 06, 2019 - 15:32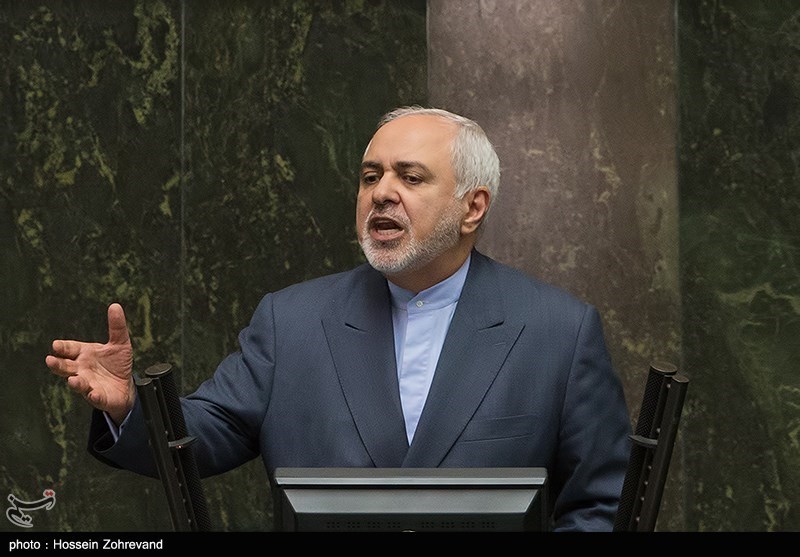 TEHRAN (Tasnim) – Iranian Foreign Minister Mohammad Javad Zarif warned Turkey against any military move in Syria and said regional nations' security can be preserved only through respecting other countries' territorial integrity.
Addressing an open session of the parliament in Tehran on Sunday, Zarif pointed to the recent tensions between Syrian Kurds and the Turkish government and said, "Regarding the Syrian Kurds, the position of the Islamic Republic is completely clear."
"We have stated that the only way to maintain security in Turkey is to establish the (Syrian) central government's military presence in the border areas, and under the Adana Agreement this can be done," he said.
"Security (in Turkey) cannot be created through (military) action against Syria's territorial integrity and sovereignty," the Iranian top diplomat went on to say.
"The Islamic Republic certainly believes that regional security is possible through observing two principles: first, respect for the sovereignty and territorial integrity and security of all regional countries, and second, respect for the rights of all its inhabitants, including our Kurdish brothers and sisters…," Zarif stated.
The remarks came after Turkish President Recep Tayyip Erdogan, in his strongest warning yet, threatened on Saturday to launch a military operation into northeastern Syria, where US troops are deployed and have been trying to defuse tensions between Washington's two allies - Turkey and the Syrian Kurds.
Erdogan's threats were a warning that a US-Turkish deal to secure Syria's troubled border with Turkey was faltering. He said a Turkish military operation against the US-backed Kurdish forces could begin "maybe today, maybe tomorrow".
The Turkish military has been dispatching units and defense equipment to southeastern Sanliurfa province in the past month. Erdogan had expressed frustration, threatening a unilateral operation, but this was his most specific threat amid concerns from the Syrian Kurds of a limited military operation, according to a report by the Telegraph.
"We have given all kinds of warning regarding the (area) east of the Euphrates to the relevant parties. We have acted with enough patience," Erdogan said.
The Turkish leader has repeatedly expressed frustration with Washington's support for Kurdish groups in Syria. His threats continued despite a deal reached with Washington in August to carry out joint patrols and move Syrian Kurdish fighters away from the border.
The Kurdish-led Syrian Democratic Forces said it is committed to the agreement between Turkey and the US to preserve stability in the region.
"However, we will not hesitate to turn any unprovoked attack by Turkey into an all-out war on the entire border to DEFEND ourselves and our people," SDF spokesman Mustafa Bali tweeted Saturday.