President Rouhani Calls for Closer Iran-Malaysia Ties
TEHRAN (Tasnim) – Iranian President Hassan Rouhani voiced the country's willingness to promote bilateral relations with Malaysia and said closer economic cooperation between the Islamic Republic and the Southeast Asian country would be in favor of both nations.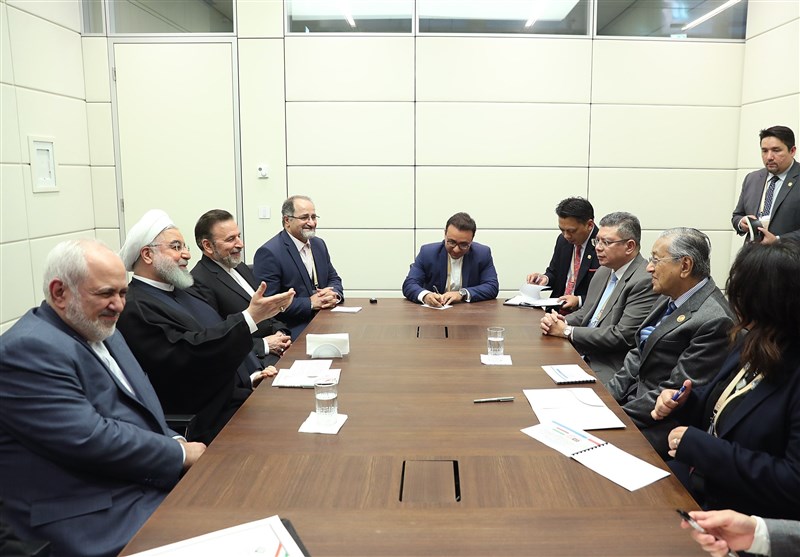 "Your efforts to develop Malaysia have always been admired by the (global) elite, including those in Iran," Rouhani told Malaysian Prime Minister Mahathir Bin Mohamad at a meeting in the Azeri capital of Baku on Friday night on the sidelines of the 18th Non-Aligned Movement Summit.
The development of economic relations between Tehran and Kuala Lumpur is in the interest of two nations and two governments, he said.
"We need to create new mechanisms for the further development of mutual cooperation in all areas," Rouhani added.
"Iran is keen to replicate Malaysia's successful experience of preferential tariffs for developing commercial relations," he noted.
Mahathir Bin Mohamad, for his part, highlighted Malaysia's cordial ties with Iran and said the Islamic Republic's advances in new technologies and sciences are amazing and make him happy.
"I admire Iran's technological and scientific capabilities and your country's progress," he added.
Heading a high-ranking delegation, Rouhani arrived in Baku to address the 18th NAM Summit, which kicked off on Friday in the Azeri capital, and explain the Islamic Republic's positions on important regional and international issues.
The preparatory senior officials meeting of the NAM summit was held on October 21-22 and the two-day preparatory ministerial meeting was held on Wednesday and Thursday.
Host Azerbaijan took over the chairmanship of the NAM for the next three years at the Baku Summit.