IRGC Ground Force Equipped with High-Precision Missiles, Drones: Commander
November, 11, 2019 - 11:37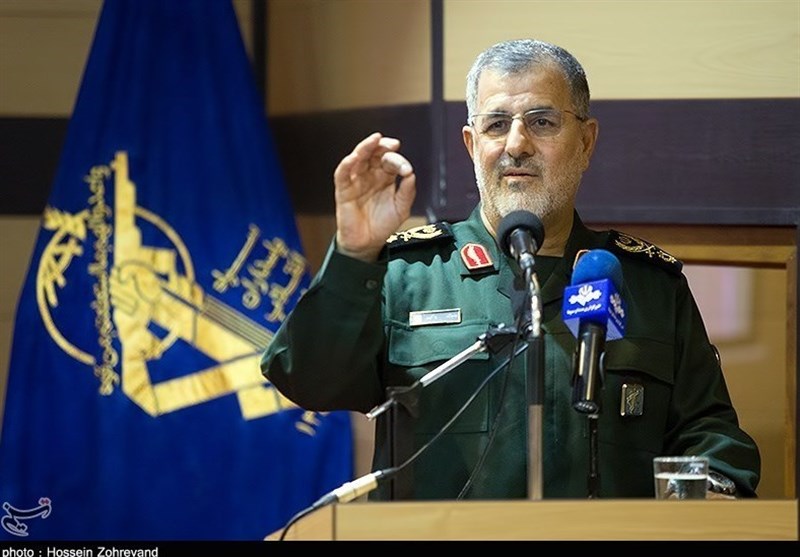 TEHRAN (Tasnim) – Commander of the Islamic Revolution Guards Corps (IRGC) Ground Force Brigadier General Mohammad Pakpour highlighted Iran's military power and said his forces are equipped with high-precision missiles and drones.
"Today, the IRGC Ground Force is equipped with new and modern equipment," Brigadier General Pakpour said in a speech in the central province of Isfahan on Monday.
He further highlighted the sophisticated forces' role in boosting the country's military power and said, "If we do not have skilled and knowledgeable personnel, the equipment will not be effective."
"Now, our equipment is not comparable to (those in the era of) Sacred Defense," he said, referring to years of the Iraqi imposed war on Iran in the 1980s.
"Today, high-precision missiles and drones are well organized in the IRGC Ground Force," the commander said, adding that If Iran had been equipped with these gears, it would have had no problem in the Sacred Defense era.
Iranian military experts and technicians have in recent years made great headways in manufacturing a broad range of indigenous equipment, making the armed forces self-sufficient in the arms sphere.
Iranian officials have repeatedly underscored that the country will not hesitate to strengthen its military capabilities, including its missile power, which are entirely meant for defense, and that Iran's defense capabilities will be never subject to negotiations.
Back in February 2018, Leader of the Islamic Revolution Ayatollah Seyed Ali Khamenei called for efforts to maintain and boost Iran's defense capabilities, hitting back at the enemies for disputing the country's missile program.
"Without a moment of hesitation, the country must move to acquire whatever is necessary for defense, even if the whole world is opposed to it," Ayatollah Khamenei said at the time.